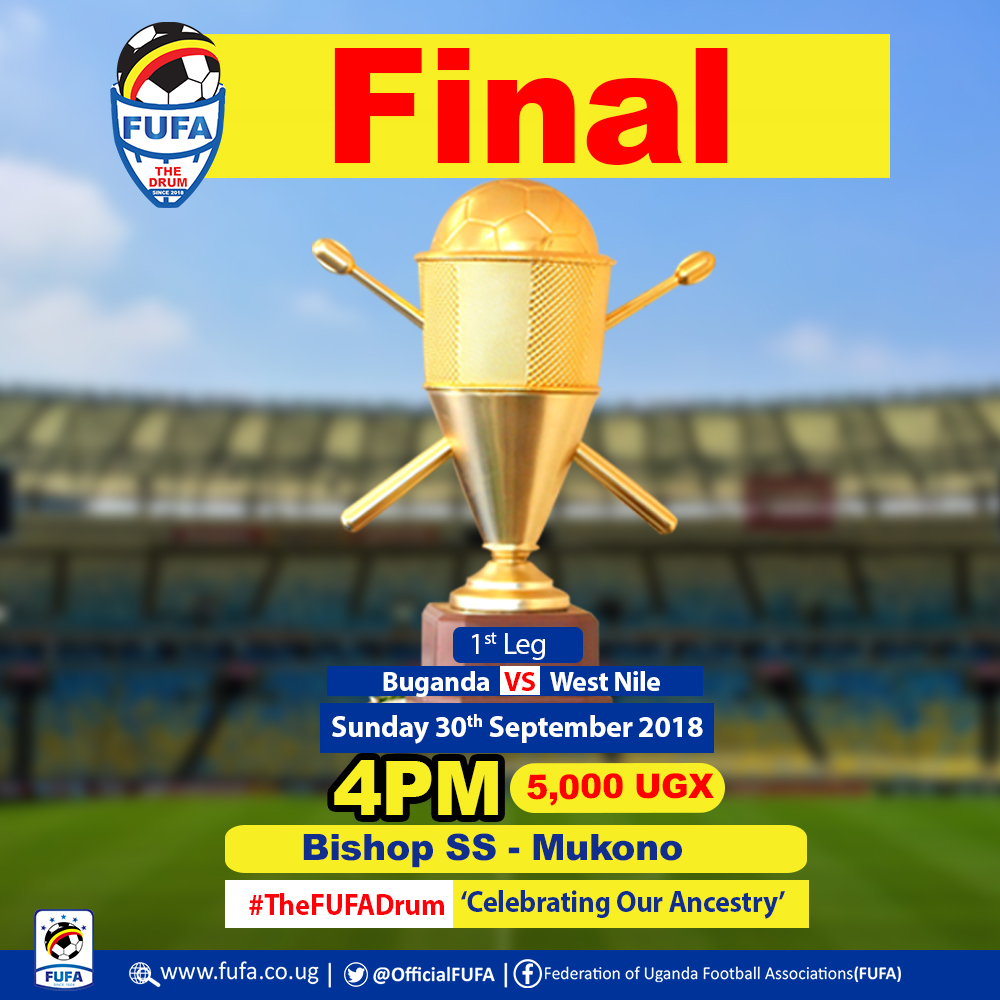 West Nile and Buganda Provinces will compete in the final of the inaugural edition of the FUFA Drum tournament.
The tournament that kicked off in February had 16 provinces take part but it is Buganda and West Nile that managed to reach the final.
Below is the journey for either province right from the group stages;
Buganda Province
Buganda had a dismal start losing their opening game 1-0 to Kigezi at Masaka Recreation ground under coach Mutono Stephen who was shown the exit immediately.
This was followed with a goalless draw away to Acholi province in one of the most watched games in the tournament.
The first victory for Buganda under the stewardship of coach Alex Isabirye came against Lango away in Lira. Allan Kayiwa scored the lone goal of the game.
However, Buganda lost the return leg to Lango 3-1 despite leading the game played at Bishop SS Mukono.
In the penultimate group game, Buganda nicked a hard fought 1-0 win away to Kigezi to boost their chances of advancing to the knockout stage. Diminutive forward Viane Ssekajugo scored the all important goal.
The final group game was against Acholi and Buganda needed maximum points to progress. Goalkeeper Nicholas Ssebwato converted a penalty in Mukono to guide Buganda to the quarterfinals.
Buganda's Journey
Group B
Buganda 0-1 Kigezi
Acholi 0-0 Buganda
Lango 0-1 Buganda
Buganda 1-3 Lango
Kigezi 0-1 Buganda
Buganda 1-0 Acholi
Quarterfinals
Buganda 1-0 Kampala
Kampala 1-1 Buganda
Semifinals
Buganda 1-0 Bukedi
Bukedi 1-0 Buganda
Buganda advanced 5-3 on penalties
West Nile Road to the final
West Nile began their campaign away to Karamoja and the game ended in a one all stalemate. This is one of the shocking results of the tournament.
Alfred Leku scored for West Nile while Vitalis Tabu failed to convert a penalty and the home side levelled matters through Majid Ayop.
West Nile Games
Group D
Karamoja 1-1 West Nile
West Nile 2-0 Ankole
West Nile 0-0 Tooro
Tooro 0-1 West Nile
West Nile 5-1 Karamoja
Ankole 3-2 West Nile
Quarterfinals
Bugisu 0-1 West Nile
West Nile 1-0 Bugisu
Semifinals
West Nile 0-0 Busoga
Busoga 0-0 West Nile
West Nile won 5-4 on penalties