• 95% of pupils pass the national exam
The Ugandan Government has released the 2018 Primary Leaving Exam (PLE) results revealing that, for the second consecutive year, Bridge pupils have outperformed the national average.
Bridge pupils are among some of the top performers in the country with 95% of candidates passing the national exam.
Startlingly, the results also reveal that Bridge girls have bucked the national trend, coming out as the country's top performers.
In Uganda, boys outperformed girls nationally, but this was not the case at Bridge schools where equal opportunity and supportive teachers enable girls to surpass their male peers.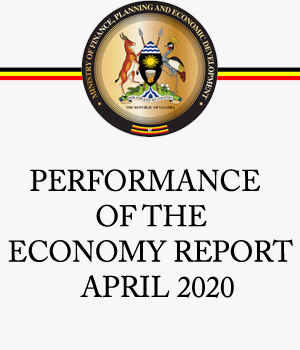 Nationally, boys are 9% more likely than girls to be in Division 1 & 2. At Bridge, it's reversed: girls are 5% more likely than boys to be in Division 1 & 2. Bridge girls performed better than boys, both within Bridge schools and nationally; indicating a far more equal playing field inside Bridge schools where both boys and girls can do well.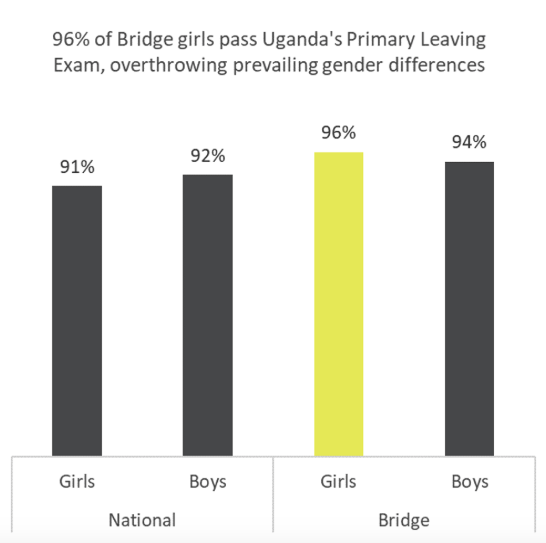 According to the UN, 700,000 primary school aged girls have never attended school in Uganda with 23% of those who do attend school dropping out early due to teenage pregnancy and 35% due to early marriage.
Several districts including Hoima in the western region and Busia in the eastern region all revealed girls to be the best Bridge performers.
In Eastern's Mayuge District, 14-year-old Namusobya Brenda scored an impressive 10 aggregate, placing her in Division One alongside Uganda's brightest pupils. Her results are even more impressive considering that her district in the eastern region is one of the most impoverished areas of the country.
Speaking about her results, 14 year old Brenda Namusobya from BridgeMagamaga in Mayuge District who is among the top performers in Uganda, scoring 10 aggregates, said: "I am so happy about my results. I studied hard and I knew that I would make it. I had lots of help from my amazing teachers who never gave up on me. My parents are overjoyed because of my results. I want to be a doctor when I finish school and maybe even build my own hospital one day. Now it's possible and I would never have achieved this without Bridge in my village."
Brenda's parents who are casual farmers couldn't help but break down with tears of joy saying: "We are celebrating and dancing because our daughter has passed with such high marks. We had lost hope in educating our girl but, when Bridge came to our community we got hope that one day our girl will be someone important in this country. We are  hopeful that this dream is becoming a reality."
Fourteen-year-old Nassuna Annet from Kabumbi, Wakiso District who passed in Division 2 and scored 14 aggregates was also overjoyed with her score saying: "I got such good marks thanks to my teachers, they were so kind and always made sure I understood everything. In my district I am lucky most of my friends in other schools had teachers that were not as helpful as mine."
Other key results include:
For the second consecutive year, a higher percentage of Bridge pupils have scored in Division One or Two than their peers, nationally. Bridge pupils were 8% more likely to be in Division 1 or 2;
The longer a child is at Bridge the better they do. Forty-four per cent of pupils who attended Bridge for just one year achieved scores in Division 1 or 2 compared to 66% of children who had attended Bridge for three years;
Seventy-two per cent of Bridge schools, coming from impoverished Districts including Wakiso, Mbale and Soroti, achieved a 100% pass rate.
Many Bridge pupils are from the impoverished communities in Districts like Mayuge, Arua and Kasese. Success in their PLE means that Bridge pupils will have access to some of the best Ugandan secondary schools and go on to pursue their dreams.