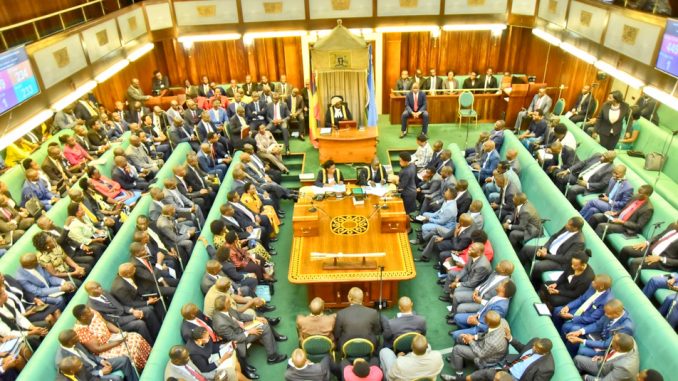 Parliament has passed the Minimum Wage Bill, 2015 that seeks to set up a minimum wage determination mechanism across different sectors of the economy.
The Bill that was moved by Workers MP Arinatwe Rwakajara also seeks to have establishment of minimum wages boards by the minister, mechanisms for determining minimum wages for each sector, duties, powers and functions of the board and the procedures for determining the minimum wage.
Rwakajara said that the Bill will address the gaps in the current Minimum Wage Advisory Board Act by providing for an employee-employer led minimum wages determination, sectoral based minimum wage determination and application.
"People cannot dictate what they wish to be paid and therefore live at the mercy of their employers; something we set out to correct with this bill," he said.
Legislators across the political divide supported the bill saying it was long overdue for Uganda to have a minimum wage.
Hon Paul Mwiru (FDC, Jinja Municipality East) said that people work for so little yet they have to survive.

"People are left in the vicious cycle of poverty because they consume all they earn. Someone gets as little as shs 2,000 a day yet they have to meet the high standards of living," he said.
Mwiru added that poor pay tempts people into seeking other wrong means of earning extra.
"Under such scenario, people opt to be corrupt, cheat, embezzle and steal so that they can make ends meet," he added.
Hon. Jimmy Akena (UPC, Lira Municipality) said that it was government considers the plight of the workers.
"I know someone who had to work day and night as a security guard to make ends meet leaving them with no life outside work. These are the people that need the protection of such a Bill," he said.
He also added that there is need to boost the trade unions to support workers and improve their ability to bargain for better pay.
"Paying someone so little to the point of exploitation means it is invalid for us to say we are developing because the rate of earning is very poor," Akena said.
Hon. Okin P.P. Ojara (Indep, Chwa West) said the Bill will eliminate the power of the forces of demand and supply being left to dictate the wage someone gets.
"If the sector or industry you work in is over supplied, it means you cannot bargain for a better pay and you will be treated like you are dispensable," he said.
Arua Municipality MP, Hon. Kasiano Wadri saidthe Bill seeks to curb the unfair treatment given to people by some foreign investors.
"It is common to hear cases of mistreatment and all sorts of injustices regarding foreign employers especially Asians mistreating the locals because they do not pay them much and thus do not value them," Wadri noted.