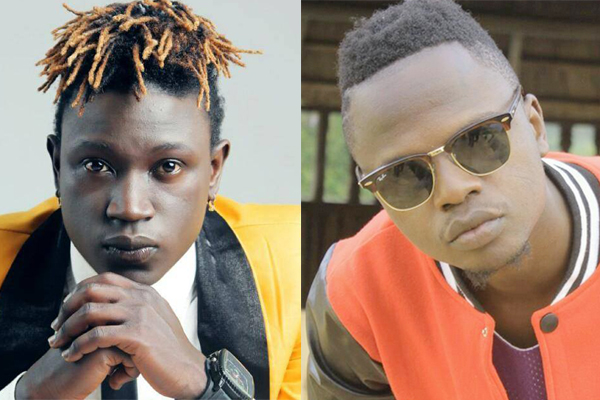 Rapper Victor Kamenyo has described the alleged shooting of singer Gilson Wabuyu popularly known as Gravity Omutujju as a big stunt aimed at getting media attention.
Speaking to this website, Kamenyo says that no one can be shot and remains in the car for a selfie with bleeding wounds.
He says as an old person who has several people injured by rubber or live bullets, no one can get such damages on the stomach and be plastered using masking tape.
"Do you know how a person shot bleeds? First of all Gravity claims he was shot in the stomach, but he only has minor injuries on the belly people are fools to believe such lies? Well, the car might have gotten damaged by bullets but those scratches on his belly are not bullet wounds..!! Do you a bullet? Go read about a bullet and how first it can injure someone." Kamenyo said adding that now that Gravity has confused people, he is now at liberty to organize a sympathy concert.
According to police, three people have so far been arrested to help with investigations into the shooting Wednesday evening shooting at LK Petrol Station in Bukuya Sub County, Kassanda District.
Wamala region police spokesperson, Mr Norbert Ochom, said a guard identified as Amos Muhebwa and two other people have been detained at Kasanda Central Police Station on charges of attempted murder as police investigate circumstances under which the 25-year-old singer was shot.

Mr Ochom further noted that police had recovered the gun that was used to shoot the Ekyakuzaala kye kirikutta singer.
"The singer was reportedly heading to Lwebitute trading centre for a show and made a stopover at the fuel station waiting to be led to the venue. After fueling, the security guard fired at his crew. Motive yet to be established. The victim sustained injuries around the stomach, rushed to Blue Star Clinic, Bukuya for first aid. He is in a stable condition. Three suspects arrested, riffle recovered," Mr Ochom said in a statement shared on Thursday morning.
Gravity currently admitted to Rubaga hospital in Kampala.