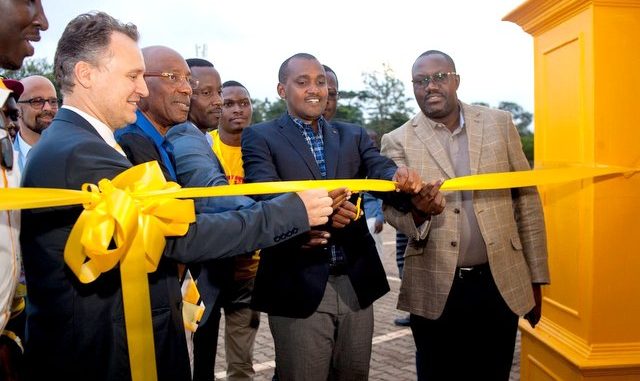 The Uganda Communications Commission (UCC) reduced license renewal fees for telecom companies following a market survey and regional comparisons.
UCC Executive Director, Godfrey Mutabazi told MPs on the House Committee on ICT and National Guidance that the reduction in fees was arrived at following an analysis of the market performance over the 20 years of MTN's operations in the industry, as well as benchmarking processes.
The reduction benefited MTN, the largest operator in the country, whose renewal fees was reduced from the originally proposed US$100 million to US$58 million. This prompted the President to write to the industry regulator for an explanation of the reduction and also explain the proposed measures necessary to mitigate repatriation of revenues from Uganda by MTN.
Mutabazi together with the State Minister for ICT and National Guidance, Hon. Aidah Nantaba and Ministry Permanent Secretary Vincent Bagiire, appeared before the Committee on Wednesday 6 March 2019.
"Whereas the Uganda Communications Act 2013 gives the Commission powers to classify licenses and set fees, the Commission uses international best practices to compute fees payable," Mutabazi said.
In October 2017, MTN Uganda applied for a single term renewal of the license for another 10 years, in accordance with the provisions of the initial National Telecommunication Operators (NTO) license of 1998.

UCC officials told MPs that the decision to reduce MTN's license renewal fees was also due to the fact that there are other payers in the telecom industry, and apportioning a 100 per cent charge on only one of them would only be unfair. They also said that UCC considered the initial bid amount by MTN Uganda in 1998, the inflation rate of the US dollar, and the market expansion multiplier over the years.
Officials also said that the regulations and laws of Uganda do not provide for specific computation and methodology for setting license fees.
"To date, the Commission has a total of seven licensed operators all competing for the widened market. The multiplier should have apportioned appropriately," said Julianne Mweheire the UCC Director for Industry Affairs and Content Development.
She added that Uganda's rates compare favourably with Kenya, Rwanda and Tanzania at US$27 million, US$500,000 and US$800,000 respectively.
Mweheire also told the Committee that the decision on repatriation by foreign investors was beyond UCC's legal mandate, noting that some countries like Nigeria had developed policies that set legal limits on repatriation-of-profit by operators.
"Uganda has liberal policies on investment and repatriation and we recommend that this matter be addressed and included in the Investment Act before it is assented to by the President," Mweheire. MPs asked the Commission to look into the workings of telecom companies regarding local content, including offering more top positions to Ugandans