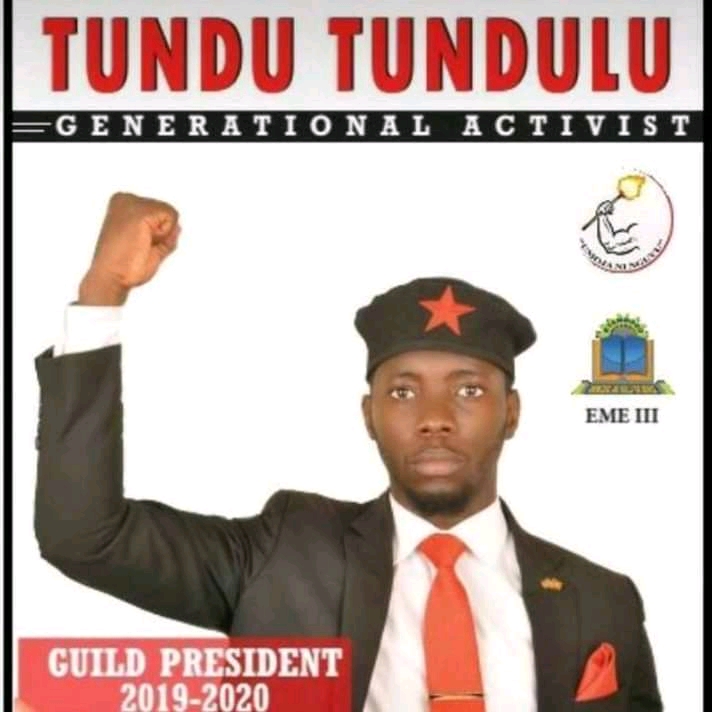 Government owned Kyambogo University was today 14th March conducting their student Guild elections, a massive and highly anticipated event that started in the wee hours.
News reaching our desk indicates that People Power leaning Independent Candidate Tundulu Jonathan (Tundu Tundulu) is already in an early lead.
The Guild race was so competitive and attracted twelve candidates that have sacrificed enormous time and resources to contest for the highly coveted position at the Banda based institution.
Though there was an ideological fight with one Woniala Bonnie over the people power slogan in the start, Tundulu surrendered the colours and slogan to little known Bonnie in desire for peace but this never took away his gigantic crowds that had gotten drunk in his rebellious tendencies.
The former GRC for faculty of Engineering has been trending with a newly crafted Swahili slogan "Umoja Ni Nguvu", meaning unity is power something that massively attracted masses that went head to head with the opposition Forum for Democratic Change's Atto Sebbi Juma and ruling party's (National Resistance Movement) Ahabwe Christian from the faculty of engineering.
Among the other contestants was independent candidate Kalulu Nicholas from the Faculty of Science, Democratic Party's Walaka John Victor, Kamugisha Emmanuel (KAM G), the only female Kukunda Anyens Agnes, Kimera William from the faculty of education, Woniala Bonnie (Bonnie Wo), Monday Shaduraka (Oggar), Kateerega Stephen and Omongole Moses.

It should be noted that in February Tundulu first went against odds when he designed and printed a campaign banners with no picture something that aroused curiosity from the students' fraternity thus resulting into the desire to establish who Tundulu could be, thus fetching him unbeatable numbers that have seen him sweep Kyambogo's topmost student office.