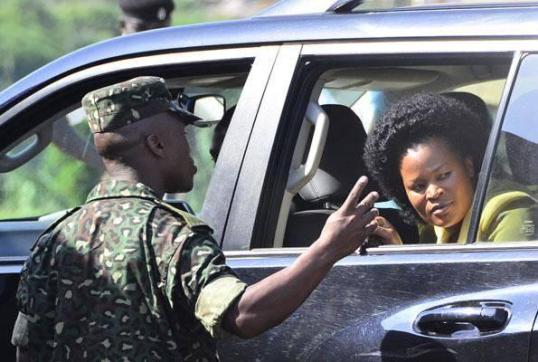 Mixed reactions following the killing of one Ronald Ssebulime, man who was allegedly railing ICT Minister Aidah Nantaba have continued to occur.
Residents of Nagojje village in Mukono district have revealed that the deceased was unarmed, had surrendered and was handcuffed when he was shot dead.
Sebulime was killed after he was suspected of trailing the state Minister of Information, Technology and Communication Aida Nantaba on a sport bike.
"Due to the high speed, I understood that these people are being chased," said John Kagiri one of the interviewed witnesses by NTV who resides in Nagalama Mission land before adding that Minister Nantaba came and asked him if he had seen a speeding motorbike.
"I replied her that it had just passed and the minister was alone without the body guard, After sometime, her bodyguard arrived and blamed her for chasing the unknown men alone."
More Eyewitness Counts

At Nagojje trading centre, one of the witnesses said that the over speeding motorbike hit the bump and they fell down.
"The motorbike hit the bump and they fell down, its sound was so loud and we came out thinking it was a car accident but we found two people on the ground with their motorbike," narrated the witness.
Other witnesses said that the two took different directions and police managed to capture one and was handcuffed and put on the Police patrol vehicle.
Witnesses further said that upon questioning Sebulime on the whereabouts of the gun of which he responded that he had no gun and that police officers put him out of the Police car and shot him.
What Police Says
In a media briefing, Police Spokesperson Fred Enanga said Ssebulime's accomplice who got away was armed.
Enanga also wondered why innocent people would runaway from police that was chasing them.
"Why were they escaping? Police is pursuing you, you have identification on you, why should you run?" asked Enanga.
On the issue of a police officer shooting Sebulime, Enanga said that they will investigate that.
"That is something that we shall need to verify and if at all it happened that way, there will be officers responsible," Enanga explained before adding that; "The fact that somebody is on handcuffs doesn't mean that he his not dangerous. These handcuffs some are weak and some guys are strong. You have seen people escape with handcuffs."