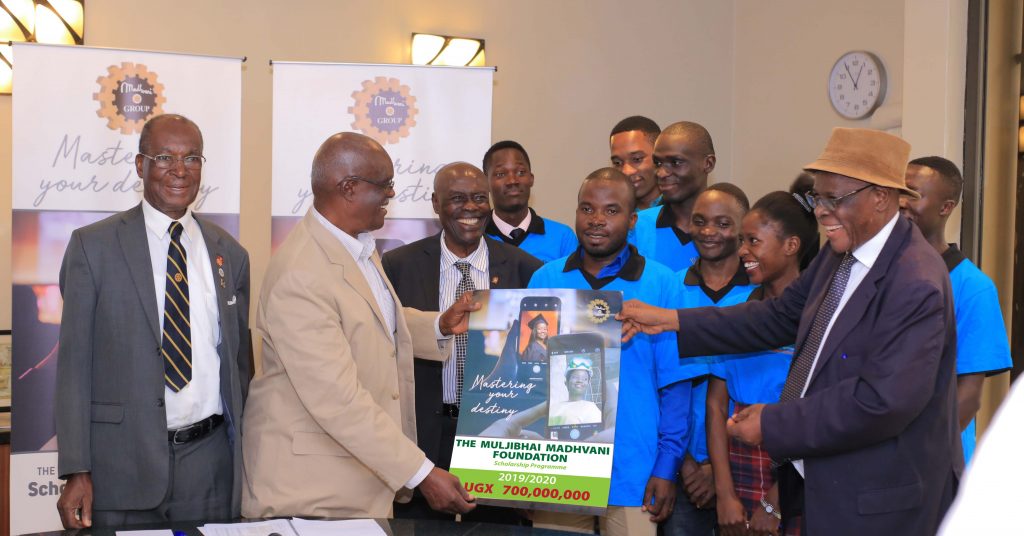 In the quest for Uganda to empower its youth through education the biggest hurdle is affordability. It has been recorded that tertiary institutions have the highest level of student dropouts.
This is mostly due to the simple fact that these students cannot afford the tuition fees. It is from this scenario that the Muljibhai Madhvani Foundation has today announced a scholarship fund of Ugx 700 million that will be used to support these brilliant yet underprivileged university students in Uganda.
Speaking at a press briefing, held at the Madhvani Head office in the Industrial area, Hon. Gerald Ssendaula, the Chairman of the Muljibhai Madhvani Foundation board said, "Madhvani Foundation is proud to be part of Uganda's education dream and today we launch the Madhvani Foundation scholarship fund for the academic year 2019/2020.
The Foundation has continuously supported brilliant but underprivileged Ugandan students from different universities. This is the 16th time the Foundation is providing this opportunity that began with about Ugx 200 million and has so far disbursed over Ugx 8,530 million. The Foundation has also managed to support over 2,240 students that have gone on to acquire formal and informal employment in different fields."
"It should be noted that the minimum required education qualification generally increases with the level of profession in the job market – a reason as to why the Foundation is substantially rooted in supporting undergraduate and postgraduate students. These levels of study take the biggest percentage of our formal and informal sector and the foundation has witnessed incredible success in this journey." he added.
Science and Technology based courses like Engineering, Health and Agriculture are among the most expensive courses compared to Arts and humanity fields at different tertiary institutions.

Beatrice Apoto, Madhvani Foundation administrator added that, "The Madhvani Foundation sponsors students taking science and technical disciplines that include: Agriculture, Biology, Chemistry, Actuarial Science, Architecture, Veterinary Medicine, Commerce, Hotel Management, Pharmacy, Nursing, Engineering, Food Science & Technology, Information Technology, Environment, and Medicine."
"It should be noted that only undergraduate and postgraduate students are eligible for the scholarship. The undergraduate student should have completed their first year of studies at any Ugandan University and postgraduate applicants who have been either admitted and/or registered for graduate programs." Apoto concluded.