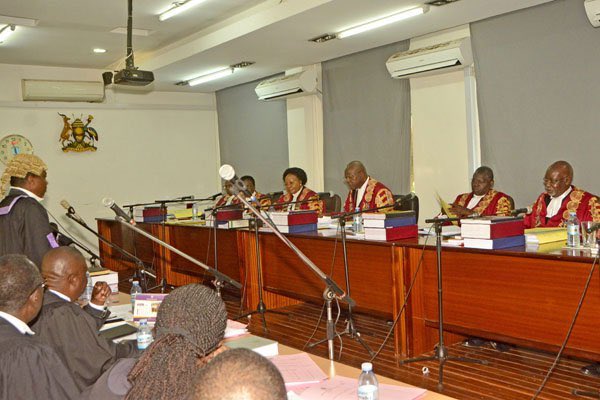 After almost a month of waiting for the final ruling on the Age limit removal appeal, the Supreme Court has finally allocated day for the judgment.
According to communication made by the judiciary, Court will on Thursday (April 18) deliver its judgment in the 'Age Limit' consolidated appeals at its Kololo base at 10:00am.
Last year, the Constitutional Court sitting in Mbale in a 4:1 decision, upheld the scrapping of the presidential age limit clauses from the Constitution by Parliament prompting a group of three parties including the Uganda Law Society, lawyer Male Mabirizi and 6 opposition MPs led by Winnie Kiiza to challenge the decision before the Supreme Court.
The three appellants represented by Male Mabirizi, Erias Lukwago, Wandera Ogalo and Ladislaus Rwakafuuzi argue that removal of the presidential age limit paved way for President Museveni to rule for life after allowing him to contest for presidency even after clocking 75 years.
They say the Constitutional Court in Mbale was wrong not to annul the amendment that will see President Museveni who will be above 75 years be eligible for re-election in 2021 after the barriers stopping him were removed by parliament.
"The framers of the 1995 constitution didn't not want an old president to lead the county and insisted that if one reaches 75 years of age, they leave office. It was therefore wrong for the court to rule otherwise. The justices ought to have known the peculiar situations that this country has gone through where we have lost many lives due to wars caused by violation of the constitution,"Mabirizi urges.