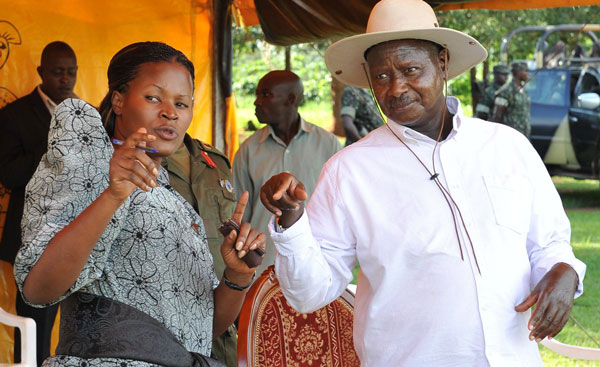 Following the recent tragic incident that happened in Kayunga resulting into the murdering of one Ssebulime Ronald, series of voices calling for the sacking and arrest of the Information Communication Technology State Minster Hon. Aidah Nantaba have been made but haven't been answered yet.
Several people accuse the minister for framing the assassination of youthful Ssebulime who was arrested for traveling on a motorbike, handcuffed before being shot dead by police on Sunday March 24th, 2019.
This happened after Nantaba tipped Police that she was being trailed by two men riding a grey Suzuki motorcycle Registration number UDL 822A. She reportedly said that the suspected assassins had trailed her for a distance of 40 km from Sezibwa Bridge up to Naggalama Trading Center.
However in an exclusive interview with one of president Museveni's confidants who begged to remain anonymous, it was revealed that the appointing authority has no intentions of sacking the Kayunga district woman Member of Parliament.
Our insider added that its unfortunate Ssebulime lost his life under unclear circumstances but unless proven guilty that the minister framed the incident, then there is no reason of holding her accountable for mere allegations yet the real killers were arrested.
It was also revealed how the appointing authority is impressed with Nantaba's performance as far as fulfilling her mandate as a minister and contribution towards National Development.

"The president has no problem with Hon. Nantaba, all I can tell you that she can't be sacked because of that crisis, the responsible security groups are still investigating the entire incident and sacking her now in one way or the other can affect the investigations. If Nantaba only tipped the police to come to her rescue, the police managed to arrested and handcuff Ssebulime, why was he killed after? The president is interested in knowing the one who might have given the said 'changed order' but not planning to punish Nantaba for doing the right thing of informing security in good faith." The official said adding that Ugandans should be calm and allow the law to do its part.
Nature of Nantaba's Appointment
Nantaba is considered as Kayunga's most powerful and influential politician who is much treasured by both the ruling and opposition supporters. Though this had created rifts between her and the speaker of Parliament Rt.Hon. Rebecca Kadaga, Nantaba's contribution to president Museveni's overwhelming triumph in the area can't be taken for granted.
Unlike other officials that are massively punished for denouncing the ruling party Hon. Aidah Nantaba is one of the few officials that refused subscribe to the National Resistance Movement in the previous 2016 general elections but retained her ministerial job.
Nantaba was then State Minster for lands but after the election she was controversially elevated as State Minister for ICT at a time when president Museveni's longtime allies like Hon. Jim Muhwezi, Jesca Alupo among others were not given priority.
It should be noted that unlike other independent lawmakers who are on Cabinet simply because they lost during primaries but managed to win the final vote, Hon. Nantaba refused to contest in the NRM primaries even rejected party colours in the final election but still made it back to Parliament and Cabinet.
Defying CID Summon.
Idah Nantaba Erios has shunned police summons to record a statement in relation to the death of Ronald Ssebulime.
In a letter dated March, 29th, 2019 sent to the Criminal Investigations Department, Nantaba says she is unable to report in person because she has been directed by President Yoweri Kaguta Museveni to stay at her home until he himself instructs otherwise.
"In such circumstances, I'm restrained to travel to Kibuli CID headquarters as you requested. But you may in the meantime consider visiting my premises to record the required statement," reads Nantaba's letter in part.