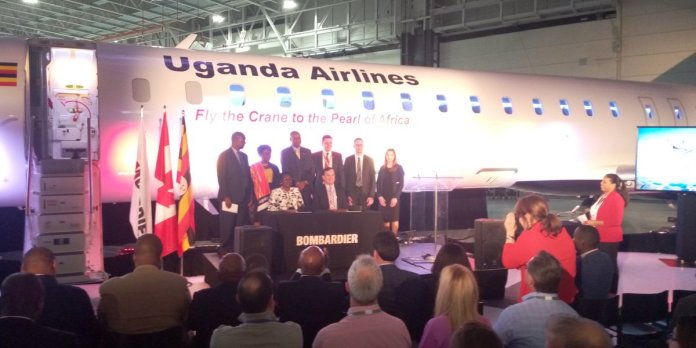 Uganda delegation has finally received the long awaited brand new CRJ900 Bombardier aircrafts at the production centre in Mirabel, Quebec Canada.
The handover ceremony of the 2 Bombardier CRJ900 Aircrafts to Uganda Airlines took place in Quebec Mirabel (Montreal) Canada from 8pm to 9pm.
The kobs were handed over to a Ugandan delegation led by the minister of Works & Transport Monica Azuba Ntege towards 9pm on Tuesday night April 16, 2019.
Azuba's delegation arrived in Quebec on April 14 and was received by Uganda's High Commissioner to Canada Joy Ruth Acheng.
Speaking at the handover ceremony, minister Azuba said government realised that foreign airlines are not fully dependable and it therefore decided to revive the Uganda Airlines.
Azuba thanked Bombardier for developing what she termed as "a very beautiful aircraft".

"We hope sooner or later we shall be back for more Bombardier." The aircrafts have successfully been registered by CAA as 5xkob and 5Xequ.