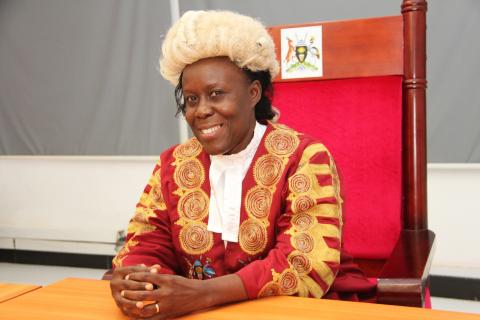 The fourth Judge of the Supreme Court Justice Lillian Tibatemwa-Ekirikubinza has also nullified the age limit removal amendment.
Speaking during today's appeal ruing session at Kololo, Justice Tibatemwa said the amendment of article 102(b) did not violate the basic structure of the Constitution, and that it was within the powers of Parliament to pass the amendment.
She notes that the order of business at a particular sitting of Parliament will have to be done by the Business Committee of Parliament acting as a whole and not any of its Members acting unilaterally.
To her, the Amendment Act fails and was enacted without strict compliance with Parliamentary rules.
She says the principle of severance does not apply in the instant case because the entire process was so flawed that the entire Act is unconstitutional.
"I emphasise that the violation of the rights of citizens who couldn't be consulted by their MPs is contrary to objective 2 (2) of the national principles."

Justice Tibatemwa blames the Inspector General of Police who, through a memo from AIGP Asuman Mugenyi, restricted consultations by MPs.
She says the presence of UPDF soldiers in actively removing MPs from the Chambers violated the sovereignty of Parliament.
"Amending article 102b and didn't violet the basic structure of Uganda's Constitution. The Speaker has no power to unilaterally determine the contents of the order paper," she noted.