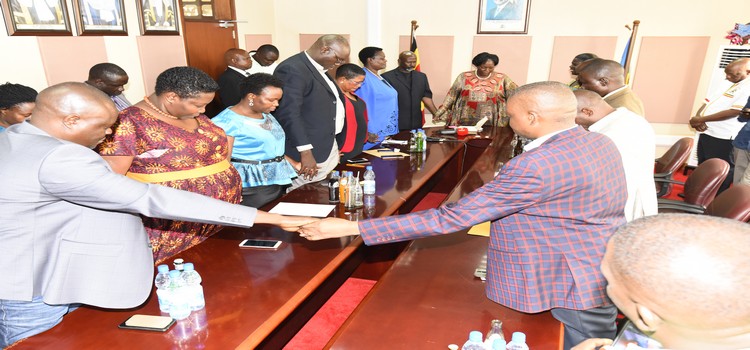 Speaker of Parliament, Rebecca Kadaga continues to receive congratulatory messages upon her recovery, and this time from Teso Parliamentary Group (TPG).
Legislators from Teso who celebrated Kadaga's return on 03 May 2019, said that news of Kadaga's ill health left them in pain.
The Vice Chairperson of the group, Hon. Veronica Isala Eragu (NRM, Kaberamaido County) said that to them, the period which Kadaga took in hospital is one of the longest they experienced.
"When we heard that you were back home, we jubilated. As TPG, we value the relationship we share with you, it is special," said Isala Eragu.
The legislators took the opportunity to pray for Kadaga and also gave her gifts as a gesture of wishing her complete recovery.
Hon. Angelline Osegge (FDC, Soroti District) encouraged Kadaga to keep strong, saying that the ill health was just a trial.

"Desire and seek the purpose of God. There is a reason why he has brought you back," said Osegge.
Kadaga who was visibly excited by the warm wishes said she has been overwhelmed by the response she has received from people world over.
"When I returned, there was so much traffic, the Kenyans were looking for me, Ugandans were looking for. I was so amazed," said Kadaga.
She attributed her recovery to God, saying that during difficult times, she would talk to God.
"I would remind him of the sacrifices I have made and tell him that I do your work. He is a great God who listens. I will continue serving Him," said Kadaga.
She also called on MPs to continue carrying out their roles and responsibilities.
"All is well. God answered our prayers. Let us continue working so that we can handle the problems in this country because that is why we were elected," said Kadaga.