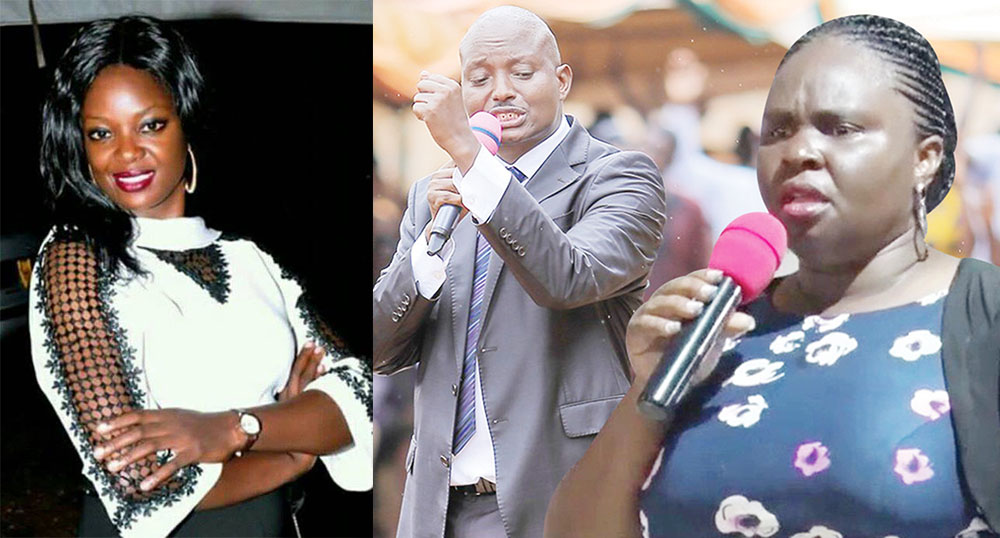 The verbal flames at the Makerere-Kikoni based House of Prayer Ministries International seems not to be ending soon as different followers continue taking sides in the family rifts of the Pastor Aloysius Bugingo.
News reaching our desk, indicates that a section of 'Canaan Land' Church elders are soliciting signatures petitioning the senior pastor to revoke his decision to divorce his wife Teddy Bugingo, whom he has been married to for over 29 years.
They are relating Teddy to the Biblical Esther "who prevailed and stayed in the palace of the King despite her many foes", church elders claim that they won't allow a man of God to advocate for something that the bible doesn't subscribe to, Hadassah Must Stay!!!!".
"Better do yourself good by getting out of the relationship mind you no one supports you here. Teddy Bugingo and Bugingo their marriage was ordained by God for 29 years by the time you intercepted in. No matter what, u will never have peace. Look for yourself a single man who will understand you and stop wasting time in a relationship with a married man. Mbu namunswa alya ku nswa'ze." One of the followers said to Bugingo's new 'Mugole'.
It is said that Bugingo who reportedly now stays in Lungujja in Lubaga division with his new catch, fled his Kitende home along Entebbe road after disagreements with his wife Teddy Naluswa Bugingo and his daughter Doreen Gift Kirabo.
Bugingo told his congregation at House of Prayer Ministries International in Makerere, that his wife and daughter want to grab and sell church land.

While Bugingo claims Teddy wants to harm, the wife who is also a pastor says it's an excuse for getting another woman.
Teddy argues that on their wedding day, 29 years ago, they swore— for better, for worse, in sickness and health, and she intends to uphold the vow till death sets them apart adding that she is still in love with her husband and is not willing to divorce him and allow him marry another woman.
"I still love him. He is my husband and we swore at the altar to stay together for better, for worse," she said.
She also called upon church leaders and elders to defend the sacred institution of marriage.
Teddy says while they registered the church in 2001 as a family company, Bugingo has been registering all the church property in his names as an individual and only signatory.
Who is this New Bugingo Mistress?
Susan Makula Nantaba, 30 is a university graduate and works on Salt Radio and Television owned by her lover Pastor Aloysius Bugingo.
Makula is one of the three ladies on The Junction, a relationship programme on Salt TV hosted by Pervin Senkubuge, a daughter of veteran dramatist Charles James Senkubuge who is one of the managers at the Christian media franchise.
Makula who drives a maroon RAV4, also runs morning radio shows on Salt FM, Monday to Saturday, on top of being the music scheduler at the radio station.
The new lady has not stopped at running Salt Media firm, she is also the proud owner of the restaurant that sells food to congregants at Bugingo mammoth church known as Canaan Church, which guarantees her a good source of income.
We hope the two lovebirds make their marriage official this year.