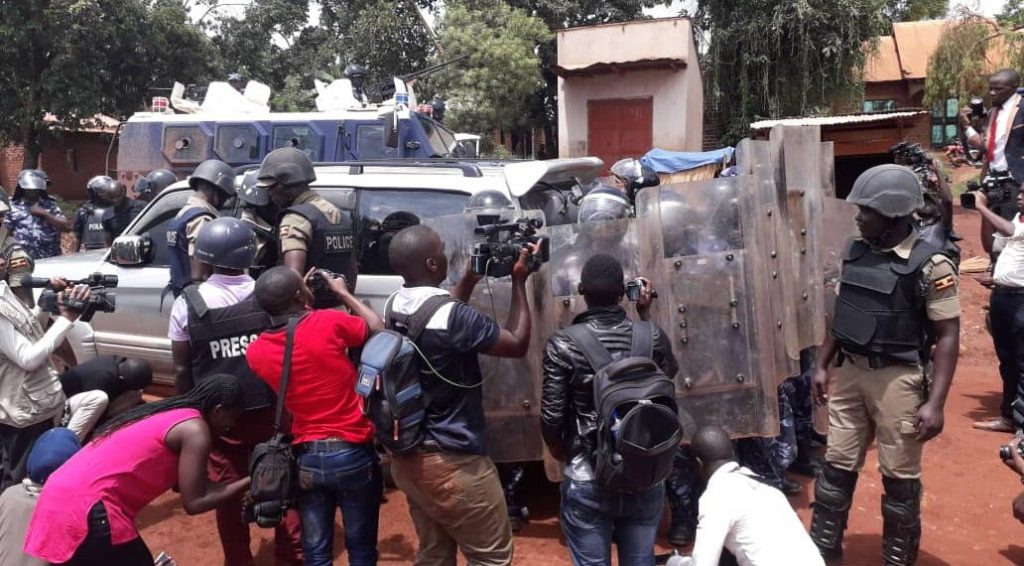 Police have vowed to apprehend all its officers who were behind the brutal arrest of the Kyadondo East MP Robert Kyagulanyi alias Bobi Wine.
This follows the actions made on Easter Monday where police broke the window of Bobi Wine's car using pistol butts and a hammer and later fired teargas in to grad him out of his car and disperse his supporters before he was arrested.
Addressing journalists at the Naguru police headquarters, the police spokesperson Fred Enanga said the incident is regrettable and that all the officers involved will be charged because they did not follow the right procedures of police.
The commitment by police come after President Yoweri Museveni in a statement issued during the weekend condemning the manner in which Bobi Wine was arrested.
Museveni said police should have towed Bobi Wine's vehicle to wherever they wanted him to be and not break in.
"I also disapprove of the method the Police used to break the glass of Bobi Wine's car. They should have towed the vehicle to wherever they wanted him to be. I do not watch TV most of the time because of work," he added.

Museveni cautioned opposition leaders to preach unity rather than hate amongst people.
The legislator cum singer was arrested at his One Love Beach in Busaabala, Wakiso district where he had gone for his Kyarenga Extra concert that police had earlier blocked for flouting security guidelines.
Riding in a grey Toyota TX, the singer defied police orders and stormed Busaabala, the venue for his concert Kyarenga Extra.
Police then surrounded the vehicle and towed it for a few metres before breaking one of its windows, threw in a tear gas cannister and arrested him.