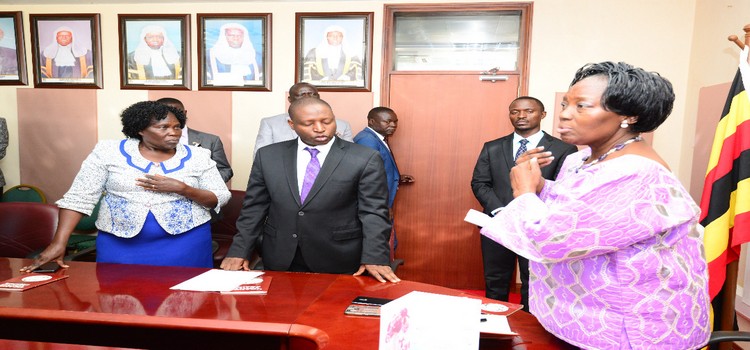 The Speaker of Parliament, Rebecca Kadaga has challenged female lawmakers to ensure pending bills are handled expeditiously before the general elections in 2021.
Kadaga said that as the elections draw closer, attendance of MPs will reduce, hence affecting Parliament business. She added that, 'this will have a negative bearing on efforts to achieve the agenda of women'.
"We must find space quickly to clear our desks especially on some of those outstanding issues," said Kadaga.
She appreciated the MPs for the commitment exhibited so far in advocating for women issues in the country.
"It takes courage and persistence. We are still in a very patriarchal society; even when you don't expect patriarchy, somehow, you know it comes out. We should not give up," said Kadaga.
The identified bills that have a bearing on women include, the Succession Amendment Bill, Sexual Offenses Bill and Employment Amendment Bill.

The Speaker said this while meeting the executive of the Uganda Women Parliamentary Association(UWOPA) on, Thursday, 09 May 2019. The legislators had paid a courtesy call on Kadaga following her recovery and return to office.
Kadaga said that when she was in hospital, she remembered that she still had unfinished business.
"Before I fell sick, one of the senior members of the House came to my office and said that I need to find time for the members especially the young ones. So, I told God that there are things I have not done, but I am in my hands. I thank Him that we are together," said Kadaga.
The Chairperson UWOPA, Hon Pamela Nasiyo said that female legislators are looking forward to Kadaga resuming work.
"Women felt your absence. We do not feel free to present our issues when you are not presiding over the House," said Nasiyo.
Meanwhile, the Lango Parliamentary Group want Kadaga to visit Lango to celebrate her return.
The Chairperson of the Group who is also the Minister of Lands, Housing and Urban Development, Hon. Betty Amongi said that Kadaga's roots in Lango are still strong and the people there are eager to celebrate with her.
"You studied in Lango and you have never forgotten us. You are our own and when you fell sick, there were very many questions from the people of Lango and we did not know how to answer them," said Amongi.
Kadaga reassured the people of Lango that she has enjoyed her relationship with them.
"Our relationship is eternal. I went to Lango when I was only 13 years and it is from there that I studied and got my spiritual foundation," said Kadaga.
Earlier, the Speaker joined the Thursday Fellowship made of Members of Parliament in charge of the annual prayer breakfast.
The Chairperson of the Thursday fellowship and Minister of State for Finance, Hon. David Bahati, said that through this time they had prayed for her recovery and they are grateful to God for the answered prayer.
This meeting was also attended by the Leader of the Opposition, Hon Betty Aol Ocan.