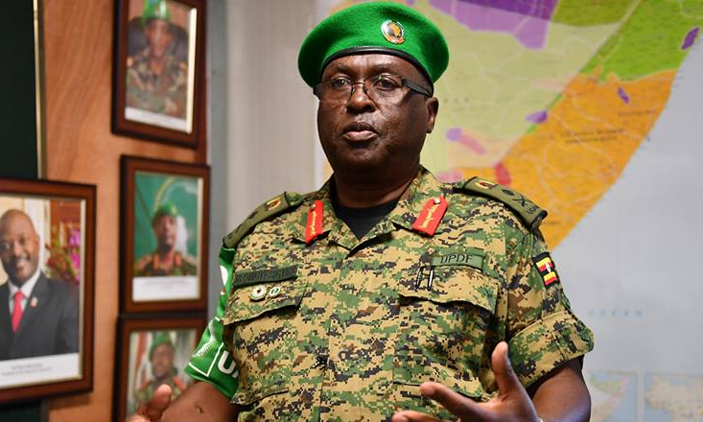 Lt. Gen. Jim Besigye Owoyesigire, the former Africa Mission in Somalia (AMISOM) commander has warned youth around the country to stay away from Kyadondo East Member of Parliament, Robert Kyagulanyi Ssentamu alias Bobi Wine.
Speaking while appearing in televised interview, Gen Owoyesigire, said that the youths that are rushing to join Kyagulanyi's People Power movement are wasting their time.
"He has no vision and couldn't by any means remove President Museveni from office. At the moment, President Museveni and the National Resistance Movement (NRM) leaders are still organized and are not ready to hand over power to disorganized people," he said
This comment comes at the time when people especially those in urban centers are getting highly possessed with the People Power hysteria.
Early this year, Bobi Wine publically declared how he was ready to run for the countries top most office something that draw mixed reactions from different people across the country.
It should be noted that If Ugandans had gone to the polls in April, President Museveni would score 32 per cent of the votes, which is way below the 50 per cent plus one vote that a presidential candidate requires to win an election outright, an opinion poll by Research World International shows.

The poll results have a +/-5 margin of error, but even if this were to entirely play in President Museveni's favour, he would still end up with 37 per cent and remain way below the threshold. 

This is Mr Museveni's lowest ever rating in an opinion poll during his tenure as president. 
The opinion poll results further show that newcomer Robert Kyagulanyi, aka Bobi Wine, would edge out Opposition doyen Kizza Besigye, although both would come in behind President Museveni. Mr Kyagulanyi, the Kyadondo East Member of Parliament, would poll 22 per cent of the votes while four-time presidential candidate Dr Besigye would harvest 13 per cent.