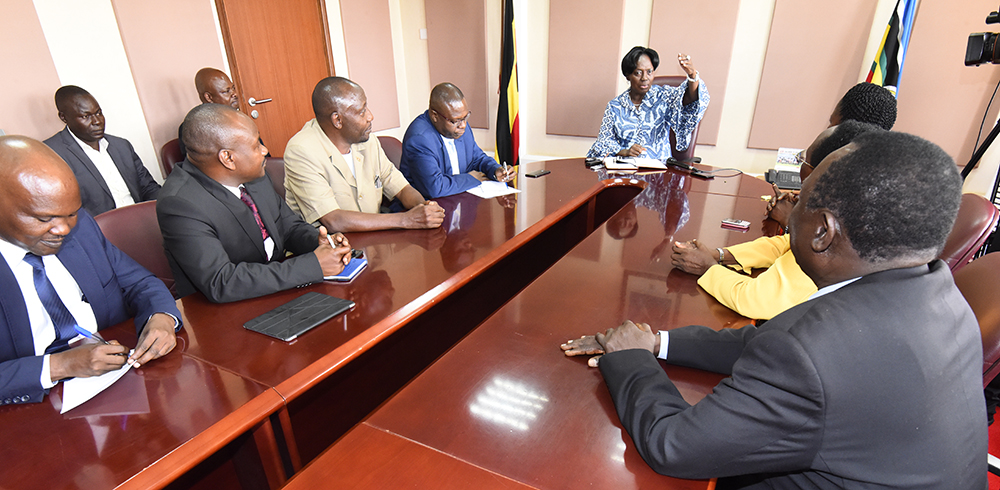 Members of Parliament from the Bugisu sub-region have appealed to the Speaker of Parliament, Rebecca Kadaga, to task government secure a loan to facilitate the quick resettlement of the Bududa landslide victims.
Legislators under their umbrella body, Bugisu Parliamentary Caucus told Kadaga at a meeting in her boardroom on Wednesday, 12 June, 2019 that the rate at which government is handling resettlement does not respond to the rate at which landslides are happening.
Legislators proposed to Kadaga to urge government to compensate the residents rather than construct houses because the latter has dragged.
"For now it is urgent that government takes a loan and compensates people just like in the road construction case. It can even be half the money they are using to construct a house – even if it is Shs 20 million per household because people are desperate," said Hon. Rose Mutonyi, (NRM, Bubulo County West).
Kadaga noted that the Bududa situation has persisted for a long time. "The livelihood and resettlement of people in the highlands of Bududa is something which government should address. We need to take a decision and deal with the issue completely," the Speaker observed.
Kadaga pledged to engage the President on the proposal to borrow funds for resettlement of the Bududa landslide victims.

President Yoweri Museveni, the legislators said, is scheduled to travel to Bududa in a fortnight.
MPs told Kadaga that residents in Bududa are living in fear of not only the landslides but also reports on the cracks developing and the land that is sagging downward.
"We have got a very big crack which goes across Kenya, Bududa, Namisindwa and Sironko," said Jack Wamanga Wamai (FDC, Mbale Municipality).
Wamanga Wamai added, "In Namisindwa, the land is sagging downwards, there is some bad smell from the ground and we fear it could turn into a crater lake."
The MPs were also concerned that the annual allocation of Shs 8 billion for the resettlement is inadequate, "The money has been used to purchase food and to put up temporary shelter," said Hon. Mudimi Wamakuyu (NRM, Elgon County).