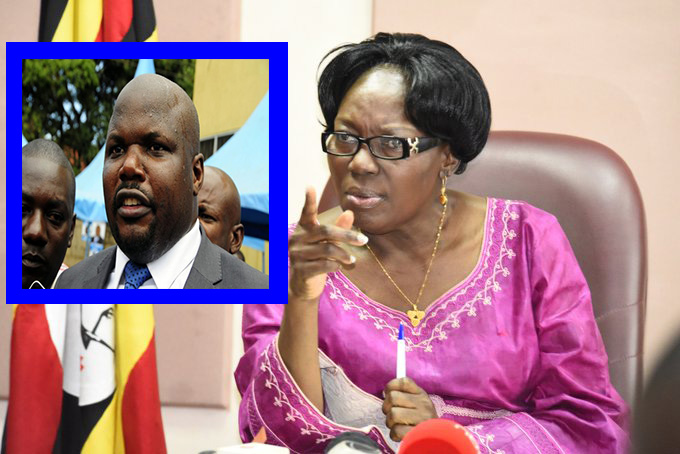 The speaker of Paraliment Rt. Hon. Rebeccca Kadaga has gone bare knuckles with the new excited Parliamentary Committee on Commissions, Statutory Authorities and State Enterprises (COSASE) that was planning to set up a sub-committee to open fresh inquiries into the closure of commercial banks by the Central Bank caused a stir within the public domain.
In a statement issued by Kadaga, she categorically makes it clear that the planned second probe can't happen since its in breach of the parliament rule 219.
It should be noted that as the new COSASE team led by Kawempe South MP Mubarak Munyagwa continued to clandestinely plot the unthinkable fresh probe proposal, something the speaker described as "misguided" and a "waste of time", Kadaga said that Parliament already investigated the Bank of Uganda on the sale of seven commercial banks.
The speaker added that Parliament has already made pronouncements and resolutions on the probe conducted by Bugweri County MP, Abdu Katuntu, and conducting a fresh probe, in my view, would be not only a wastage of time but also resources.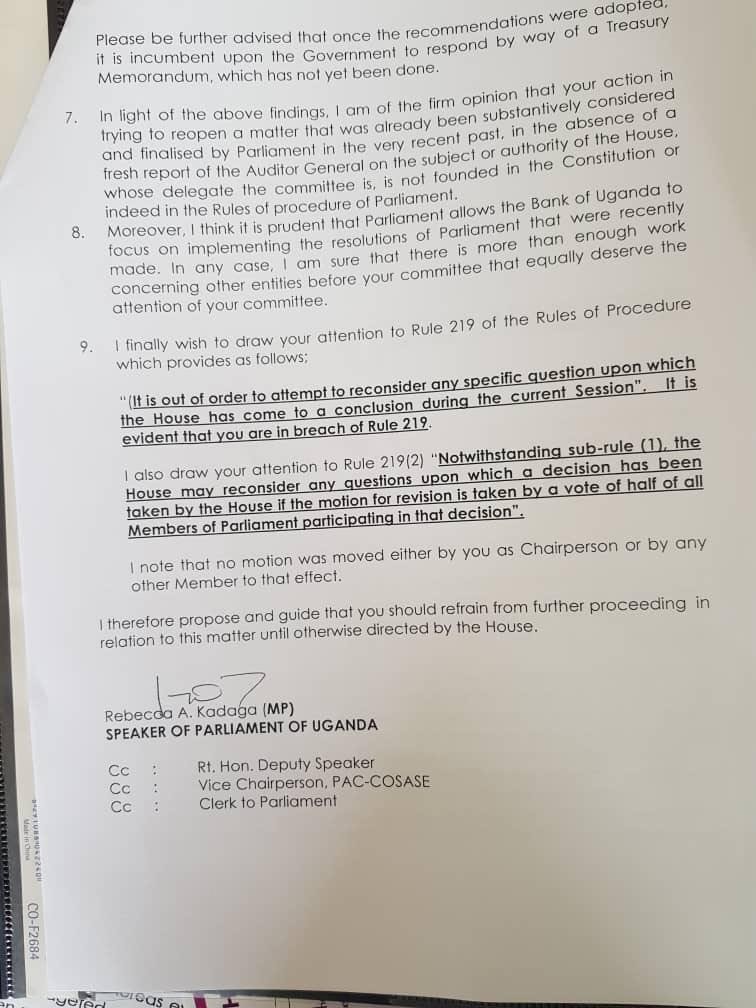 Why waste tax payers' money to execute work which has already been settled? Why duplicate work yet Parliament and specifically, the new COSASE team, can put the fresh energy into concluding other probes, which have been pending for years.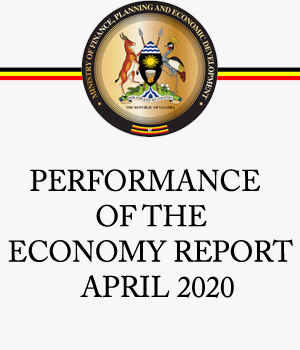 It is also fishy why the Munyagwa-led COSASE refused to seek permission from the Speaker but decided to clandestinely work behind her back to orchestrate a fresh probe?
According to Kadaga, the fact that COSASE didn't seek permission from the head of the institution on the matter of re-opening fresh investigations into the Central Bank, raises a litany of un explained maneuvers, which in my view are not only contrary to the Rules of Procedure of Parliament but also point to a wider scheme to waste tax payers' money unabated.
It should be noted that the former chairperson of the parliamentary committee on Commissions, Statutory Authorities and State Enterprises (Cosase), Abdu Katuntu continues to defend the central bank probe report that his team compiled following investigations into the closure and subsequent sale of Teefe Trust bank, International Credit bank, Greenland bank, Uganda Cooperative bank, National Bank of Commerce, Global Trust bank and Crane bank between 1993 and 2016. 
COSASE came under criticism from fellow legislators and the public on grounds that despite unmasking several irregularities, their report falls short of naming the implicated central bank officials and instead offers blanket recommendations. Some legislators have even gone as far as recommending for the investigation of Cosase itself on allegations that they could have been compromised by the implicated. 

But Katuntu says they were hampered by limited time, absence of minutes from Bank of Uganda and an attempt by President Museveni to block the investigations. 
Speaking shortly after debate on the report, Katuntu said they had no basis for naming the implicated officials since the central bank failed to avail them minutes that led to the closure of the affected banks.
"We had that very debate, do we name or not name? We had it. Some of the members of the committee were very strong on it that we name. Rt Hon speaker, as you read this report and colleagues, you realize that there were no minutes. During the proceedings we asked who attended these meetings, and the answers we were getting was they did not know who attended the meetings. How do you name people when they said they were no minutes, were they sincere? I don't think so." he said. 
Katuntu also said the committee had no intentions of shielding any officer, saying they were only able to identify Justine Bagyenda, the former executive director supervision Bank of Uganda, director financial markets development coordination, Benedict Sekabira.