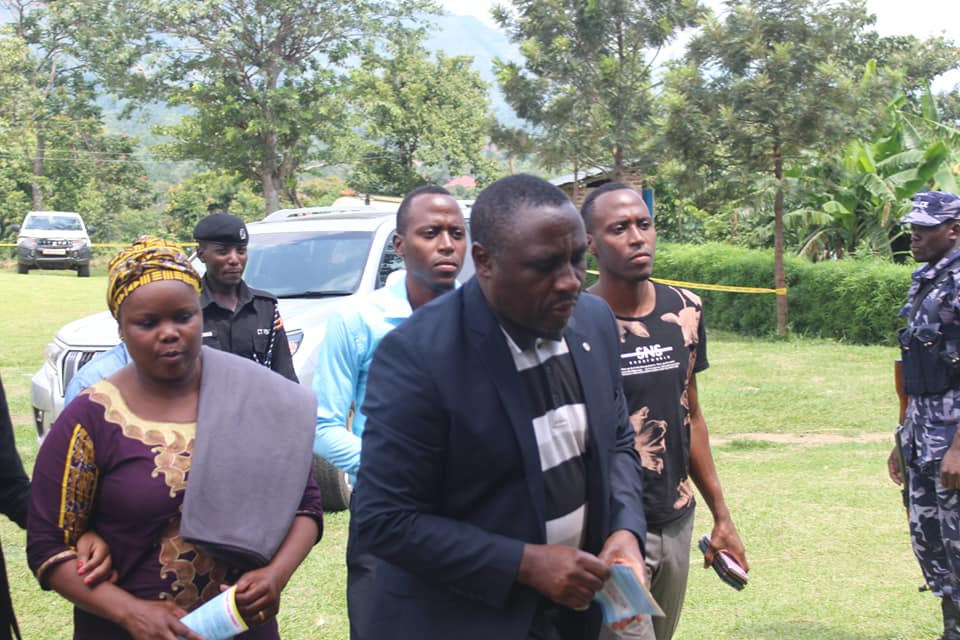 "Wait for your mothers to die also so that you can bury them where you want", this is one of the hilarious comments made by the State Minister for Agriculture Hon. Christopher Taban Kibanzanga, after the death of his mother.
Kibanzanga made this comment after controversy had a raised regarding the place where his late mother Biira Christine Mukirania could be buried.
According to the primary plan by the Rwenzururu Kingdom officials, they had planned to have the queen mother buried at her piece of land in Kasese, Nyamirangara which was bought by the president Yoweri Kaguta Museveni three years back.
However, Hon. Kibanzanga who doubles as King Charles Wisely Mumbere Iremangoma's young brother disagreed with the officials on this place citing that the land in Nyamirangara was not developed and near the road.
"The reasoning that my mother should be buried on her piece of land in Kasese, Nyamirangara is illogical too. How can a respectable lady of my mother's status with responsible children be buried on her private land which is even not developed. How can the people who should be the custodians of our culture and heritage miss this? How can I subject my mother to the humiliation of simply abandoning her in a bush that neighbors a game reserve?" Kibanzanga stated.
He added that since the Kingdom lacks a dignified place where its officials are buried, then he decided to ferry his mother to the family ancestral land in Kirindi Bundibugyo district (another kingdom).

"Having been convinced that the Rwenzururu Kingdom and the King himself have no where dignified to bury my dear mother, I have decided to take my mother's body to my father's land in Bundibugyo District, Kirindi. The Kirindi land in Bundibugyo is the known ancestral land of my grandfather Masanduku." Kibanzanga added.
The Bughendera county Member of Parliament said that he does not care about what other people think about his decision.
"Is Kibanzanga disobeying the word of his elder brother, the King? Is it true that the King is never wrong? The answers to these questions are purely subjective according to your individual world view. I don't believe that a King's judgment is flawless. If that were so, some of my brother's words and actions wouldn't have landed his Kingdom into the terrible trouble which saw hundreds of lives lost and others arrested, including him. I love my mother so much that I cannot allow to see her legacy buried in an ugly pit of shame by anyone." He said.
However these comments have not gone well with majority of his family members and Rwenzururu loyalists who think the matter and grievances of the family would have been tacked in privacy not social media like Hon. Kibanzanga has done.
"Kibanzanga Christopher get off Facebook and focus on burying the queen mother in peace. Your disagreements as a family can be resolved quietly. Much as you have the freedom to use FB, Your writings are a disgrace at this time. What Kingdom works like that? Royal matters are treated with utmost secrecy. So you think your enemies are sympathetic?Use your head my friend." Said famous Journalist Anderson Lukwago.
The same people also condemn the minister for humiliating his mother (queen mother) by allowing her to get buried in another kingdom something that forced his close relatives to boycott the burial of such a noble woman.
"The most painful thing is to bury my mother while all her children are not there bse of some self interests of politicians. Mummy God is watching who is right and who is wrong. Mummy we shall not allow your dream die. We must fulfill whatever you told us to do before you left us. mummy rest in peace." Said Kibanzanga William, the Minister's brother.