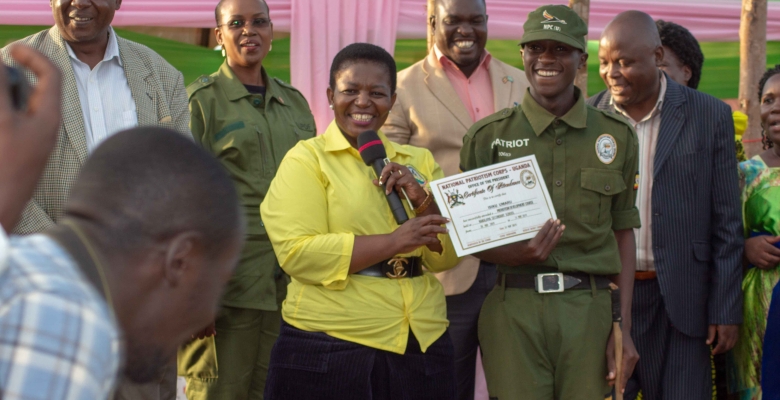 The NRM Secretary General Rt. Hon Justine Kasule Lumumba on Friday officiated at the pass out ceremony of 822 students who had undergone a one week's patriotism training at Nakalama Secondary School in Iganga District.
The Secretary General commended the students for demonstrating high levels of discipline and persevering through the course till its successful completion. She thanked the school administration and the district Patriotism Secretariat leadership for undertaking the training.
Lumumba revealed the government will in the next financial year increase budgetary allocation to the National Patriotic Program to enable preparation of the young generation to take on leadership. This she said is because the program is playing a pivotal role of impacting knowledge on the values on which the country is rested.
"As CEC, we recognize and appreciate the work of the patriotic clubs in schools and the National secretariat. We want to teach patriotism to the young people because they are the future of the country." Lumumba said.
She appealed to the students to be determined and focused in their studies in order to attain their goals in life and to observe discipline both at school and in their communities.
"Respect your teachers because they are helping you achieve your goals. The teacher's joy is in seeing you successful in life," she added.

She donated 100 bags of cement towards the completion of a classroom block at the school and Shs500,000 each to the school patriotism club and the district patriotism secretariat to help facilitate the smooth running of their activities.
On her part, the district deputy RDC Ms. Pamela Watuwa called on the students to work towards the transformation of the country and to have the nation's best interests at heart.
She urged them to pass on the knowledge gained during the course to their respective communities. She further explained that the (patriotism) secretariat's mandate is in line with the country's constitutional command that as every citizen of this country enjoys and exercise their rights and freedoms, they have a duty to be patriotic and loyal to this country.
During the training, students were taken through a number of theoretical studies. These include patriotism and mindset transformation, skilling Uganda, security and terrorism, history of Uganda as well as physical fitness.
The programme is a presidential initiative that President Yoweri Museveni launched in 2009. The ultimate goal is to produce a new breed of enlightened population committed and devoted to national causes, and have love for the country.
Since its inception in 2009, over 320,000 senior six leavers and 5,000 students from NTCs, UTCs have been trained. Over 4,000 clubs were introduced in secondary and tertiary institutions.
The pass out ceremony was attended by NRM District Chairperson Hajji Walubi Abubaker among others.