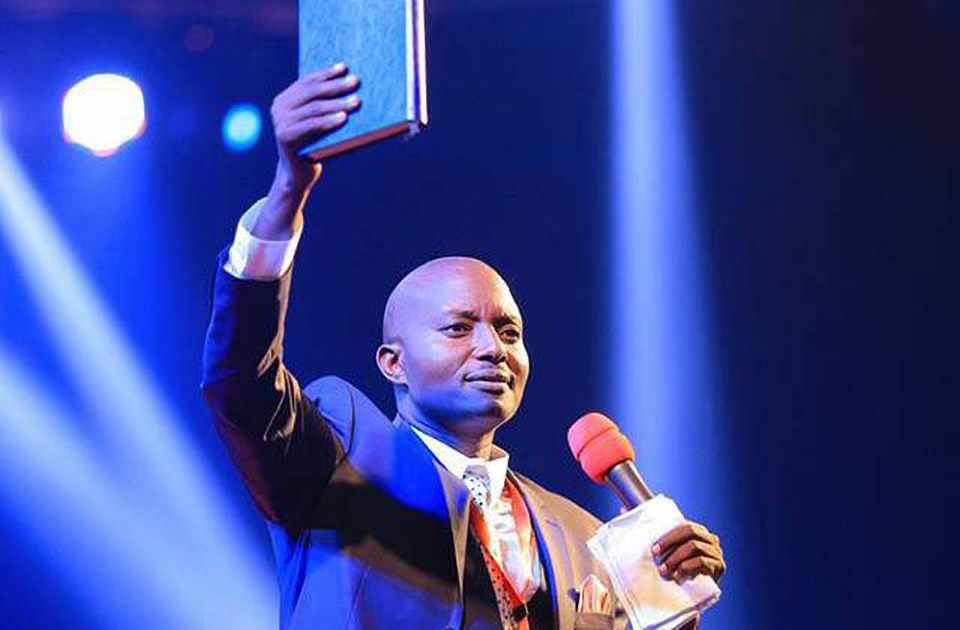 House of prayer Ministries senior Pastor Aloysius Bujingo has finally swallowed pride and helplessly gone on his knees.
Bugingo apologized first to his wife Teddy Bugingo Naluswa, his daughters and the rest of the women in the country over the controversial comments against them that went viral last week.
Bugingo noted that he is being fought by satan who doesnot only want him back to zero but in the grave.
"If there is anyone frustrated, it me. I need your help and prayers because I have individually been disunited from my relatives and family but its only God still holding me up. I never intended to offend you but all I sure about is that I was misunderstood." Bujjingo said during the Saturday service that was dedicated to the bodaboda cyclists.   
This apology follows the pressure that was mounted by different activists and the general public that even suggested subjecting the city pastor to a forceful mental checkup and arrest that was narrowly effected today after a heavy police deployment.
The reports claimed Bujingo was picked Sunday morning as he was preparing to preside over Sunday Service at his church in Makerere Kikoni.

He was allegedly "whisked away in a police van and the prayer grounds have been surrounded by Police and the Military".
"No, we have not arrested any one from the church," Kampala Metropolitan Deputy Police Spokesperson Lucas Owoyesigyire told journalists.
He said prayers are going on normally.
Bujingo is under heat from women activists who threatened to storm his church and throw sanitary pads at him.
He is accused of shaming his wife Teddy Naluswa whom he publicly undressed as having bled from her private parts for 10 years in their 29-long marriage.
Apparently, security deployed to secure the church against demonstrators who threatened to attack it.