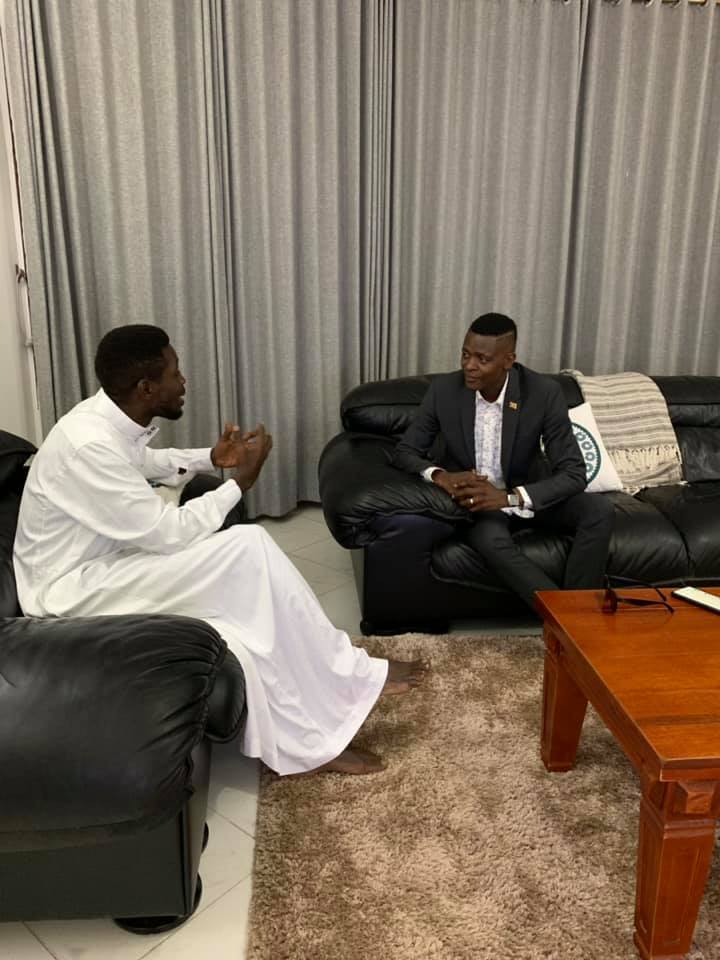 Celebrated Singer Joseph Mayanja aka Jose Chameleon has intensified his desire to oust Kampala City Mayor Elias Lukwago.
During the weekend, the Bayuda Tuyita Nabo singer paid a courtesy visit to singing politician Hon. Kyagulanyi Robert aka Bobi Wine.
The duo discussed politics and way forward on how to remain relevant in the music arena.
"It's always great catching up with old friends. Yesterday evening, it was nice hosting my friend and fellow artiste Jose Chameleon at my home in Magere after so many years. We discussed a wide range of issues from reminiscing the old times, the current state of the music industry but most importantly the future of our country Uganda. Jose informed me that a few months ago, he made a decision to join#PeoplePower, after realising that President Museveni is just a user who has nothing left to offer to our country." Bobi Wine Said.

Bobi Wine added, "He repeated to me that he was singing praises for Museveni just for the money but not out of conviction and that he now agrees with us that Museveni and his regime has destroyed our country and it's time for us as a generation to redeem it."

"I assured him that if he really means his words this time, then it would be good news for the struggle against dictatorship. I told my brother that I was glad he had made such a great decision to be on the side of the people, and he would definitely be a great addition to the forces of change. He was also apologetic for taking so long to reach out to the leadership of #PeoplePower. We both agreed that his actions moving forward will make the difference." Bobi Wine added.

"He also told me about his political ambitions and I told him that ultimately, the decision lies with the people. I advised my brother that he has some work to do to convince the population that he is truly on their side- both in words and actions. If his actions hasten the fall of the dictatorship, then he is a true comrade of ours. If his actions on the other hand delay or derail the mission, then the population will judge him as such.

He expressed concern that many people are still doubting him at this point. We both agreed that the people who are doubting him have a legitimate point, given his recent history singing for and promoting the oppressive regime of President Museveni- even as recent as the 2016 election. But I assured him that it is only his actions that will clear him. I also brought it to his attention that the people who have been fighting President Museveni have been disappointed for a very long time- with the regime planting people within their ranks to cause confusion and disharmony.
I told him how in my interactions with our elders who have been deeply involved in this struggle including Dr. Kizza Besigye, I have learnt how the Museveni regime operates. During every election cycle, they plant formidable people around the opposition. These people claim to cross over, but their real mission is to divide the opposition, fuel conflicts and make sure that the opposition spends so many hours trying to resolve petty conflicts instead of mobilising the masses to end the dictatorship. Therefore, I indicated to him that it shouldn't surprise him if several comrades are raising serious questions about him. He has an opportunity to prove them wrong or to prove them right.

Ultimately, my advice to him was that the people of Uganda will be watching him very closely these coming days and months. They will be watching his every action, and his every word. They will tell if he is for them or against them. This is the same message I pass on to all comrades who join our ranks from the NRM.

Finally, I informed him about our mission to bring all forces of change together and requested him to be part of that effort, and not be a source of disunity and disharmony. We therefore agreed that it is in the best interest of the struggle for us to harmonise positions with all change seeking forces in the coming days and months, which effort we shall embark on soon, God willing."