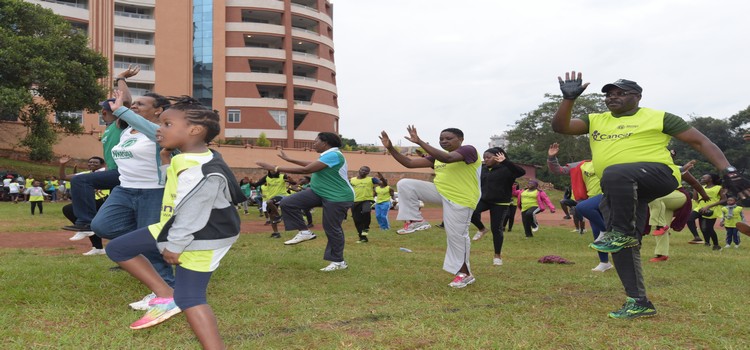 The Deputy Speaker, Jacob Oulanyah, has called on Ugandans to participate in the fight against cancer so as to create awareness but also give hope to those suffering from it.

Oulanyah said that the dream to rid cancer out of humanity depends on concerted efforts by the public.

"We have a bad situation amongst us; a monster killing people and making families suffer. By coming together, we demonstrate that we can use our power to fight this burden," Oulanyah said.

The Deputy Speaker made the remarks at the start of a cancer awareness walk around Kampala on Saturday, 13 July 2019. The walk was organised by the Nkesiga Cancer Foundation headed by Rev. Diana Mirembe Nkesiga, the Vicar All Saints Cathedral Kampala.

Oulanyah noted that Government had worked hard to push forward the fight against cancer through efforts to regionalise the Uganda Cancer Institute to make access to treatment easy.

"These things have come to Parliament and we have discussed them. We are trying to find how best we can deal with them. But the reason we are here is to help those who cannot help themselves," Oulanyah added.


The Deputy Speaker contributed shs10 million to the Nkesiga Cancer Foundation to support its work in treating cancer patients around the country.

Rev. Nkesiga commended the work done by the Deputy Speaker in advocating for healthy living of Ugandans and in supporting children under Eseza Foundation who are suffering from cancer.

"We pray that as we support an 11 year old boy from Eseza Foundation; he will get the opportunity to become a healthy contributing citizen to this country," Rev. Nkesiga said.

Rev. Nkesiga started the Nkesiga Cancer Foundation in partnership with AAR Insurance in memory of her late husband, Rev. Solomon J.B. Nkesiga who suffered from cancer of the gall bladder and died in 2015.

The cancer awareness walk covered two separate distances of 5km and 10km around Kampala city.