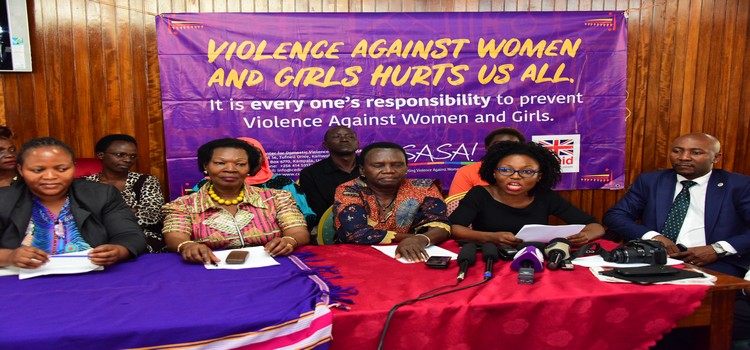 Legislators and women rights' activists have asked the Uganda Communications Commission (UCC) and Uganda Media Council to enforce professional code of ethics on all media houses in the country.
Members of the civil society said that some media houses need to avoid broadcasting or publishing content that negatively portrays women and erodes their dignity and that of their families.
The call was made in the wake of utterances by Pastor Aloysius Bugingo that his Teddy was suffering from incurable ailments.
"A case in point is seen in the recent case of Pastor Bugingo's repeated negative utterances against his wife on social media channels that has continued to get to the public including children," said Angella Asiimwe, the Program Officer Akina Mama waAfrika during a press conference held at Parliament Thursday, 18 July 2019.

Asiimwe and several leaders of civil society organizations under the Domestic Violence Act Coalition joined MPs under Uganda Women Parliamentary Association (UWOPA) to make a call to curb violence against women and girls in the country.

Hon. Mbwatekamwa Gaffa (IND, Kasambya County) noted with concern that UCC had exhibited selective deterrence of broadcast and publishing of events that breach minimum broadcasting standards.


MPs called for an urgent consideration of the Marriage and Divorce Bill, which they said would provide a potential solution to domestic violence against spouses in marriages.

"We have laws on marriage and laws on divorce, so Parliament sought to merge them in the Marriage and Divorce Bill. But the aspect of bride pride in the bill took it a step back," said Kamateeka.

The civil society members urged Parliament to prioritize the passing of the bill that would define a dignified process of marriage and divorce, with a call for continued public support.

"We recognize the considerable progress Uganda has made in legislation to address violence of women. We commend the Ministry of Gender for promoting the National Policy for Preventing Gender Based Violence, which will make Uganda a safer place for women and girls if implemented," said Grace Nakirijja, the Programs officer Centre for Domestic Violence Prevention.

The Domestic Violence Act Coalition condemns demeaning sexist behaviour towards women by their estranged intimate partners, to uphold their dignity at all times.