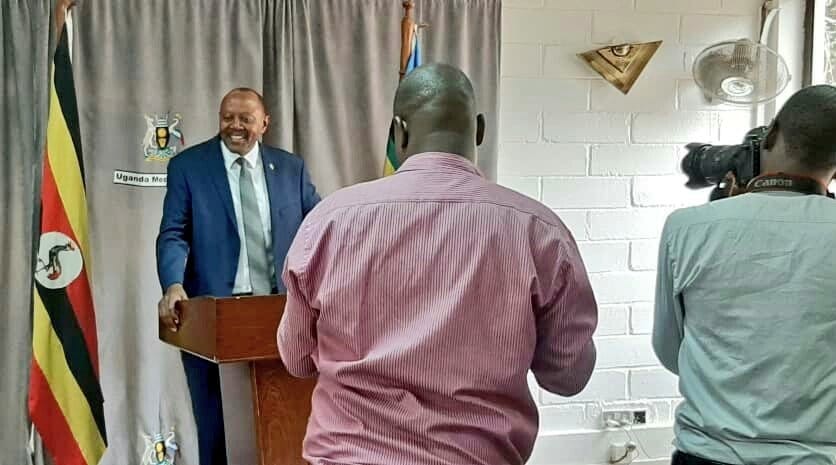 The Consulate of the Republic of Uganda in Mombasa in collaboration with the High Commission of the Republic of Uganda in Nairobi will hold the 3rd Trade and Business Facilitation Symposium in Mombasa.
Speaking on behalf of the Ministry of Foreign Affairs ,Amb. Alfred Nnam, informed the Members of the Press at Uganda Media Centre ( UMC) that the main objective of this Syposium is to at bring together stakeholders in trade along the Northern and Central Corridor that covers the Republic of Kenya, Uganda, Rwanda, Burundi, Tanzania, South Sudan and the Democratic Republic of Congo (DRC).
Amb. Katureebe, Uganda's Consul General in Mombasa informed that the Syposium will take place under the theme *"Enhancing Trade Facilitation along the Northern Corridor"* .He further emphasised that this symposium will bring together different stakeholders to discuss and exchange views as well as provide an opportunity to reaffirm their commitment to seamless movement of goods along the Northern and Central Corridor.
The 3rd Trade and Business Facilitation Symposium (TBFS) is a follow up of two other symposiums held in 2017 and 2018 organized by the Uganda Consulate in Guangzhou.
The main purpose of these annual symposiums is to provide a platform for Government Officials and Stakeholders involved in the import and export business value chain, to exchange views on existing and emerging challenges, as well as formulate proposals and strategies in charting a way forward. The location of the Consulate at Mombasa Port, the main entry/exit point for most of East African countries makes it a strategic station in monitoring and supporting ease of movement of cargo into and out of the hinterland.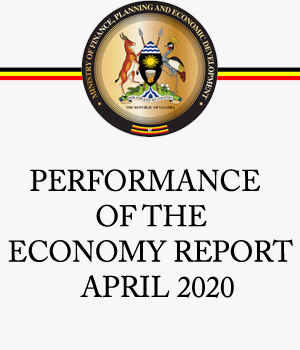 Amb. Katureebe informed members of the press that the latest statistics from Kenya Ports Authority (KPA) indicate that Uganda is ranked the leading user of the Port of Mombasa in terms of transit cargo which covers about 82% of all imports and exports. Uganda is fully committed in ensuring that doing business along the Northern Corridor is smooth, faster and secure.

Amb. Katureebe further noted that to achieve this, the Consulate engages a number of stakeholders, conducts workshops with both the business community in Uganda and Mombasa to ensure that emerging challenges are promptly addressed.Common challenges include; Scanning of transit cargo, Delays in verification of cargo, War on counterfeit
Overstay of cargo at Container Freight Stations(CFS) , Mis declaration and Under declaration. To mention but a few.
Some of the expected outcomes of this Business Synposium include ;
1)Strengthen cooperation; and enhance coordination and partnerships among stakeholders in the trade value chain in addressing common challenges.
2) Support the business community in making use of the Electronic Single Window for customs clearance of goods.
3)Provide increased understanding on key trends and issues in regard to combatting counterfeit products.
4) Enlighten on key issues of tax policy, administration and the rationale to pay taxes.
5) Provide an opportunity for participants to appreciate the Kenya import market.
6)Establish a vibrant permanent platform for information sharing and amongst partners and stakeholders.Mindset change and increased production for export.
Targeted participants will be drawn from Uganda's Private Sector, Officials from revelant Ministries, Departments and Agencies (MDA's) in the Region and Development Partners.
Overall, the symposium will provide a platform for the Private Sector, Government Officials and other Stakeholders involved in the import and export business to exchange views on opportunities, challenges faced, lessons learnt and strategies. These will include; Officials from Government Ministries and Institutions both from Kenya and Uganda, such as: Ministry of Trade, Industry and Cooperatives, Uganda Revenue Authority (URA), Kenya Ports Authority (KPA), Kenya Revenue Authority (KRA), Kenya Maritime Authority (KMA), Uganda National Bureau of Standards (UNBS), Uganda Export Promotion Board (UEPB) and representatives from Uganda Missions in Nairobi, Dar-es Salaam and Guangzhou; select Members of the Parliamentary Committees on Tourism, Trade and Industry; and Foreign Affairs; as well as the Private Sector Foundation, Insurance Regulatory Authority (IRA); Uganda Insurance Association; Ugandan Traders (Importers and Exporters); Diaspora; Logistics and forwarding companies; Shipping Lines to Uganda; Uganda-bound Cargo Handlers; and PVoC-designated Inspection Agencies (SGS, Intertek, Veritus) etc.
In conclusion Amb. Katureebe called for participation in this Syposium reiterating that this will be for general benefit of all Ugandans. For more details on the Syposium kindly contact Ms. Barbara Nakatudde