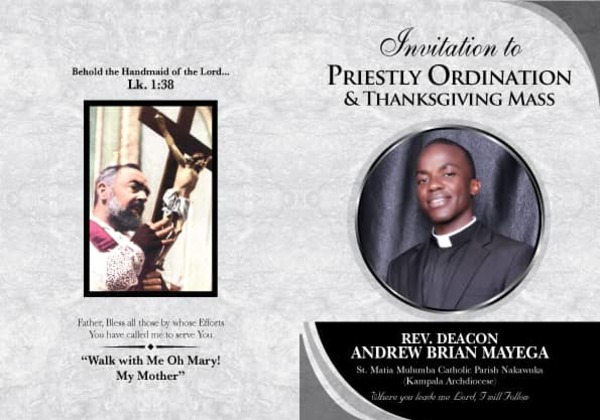 Andrew Brian Mayega has died just one week to his ordination under unclear circumstances.
Just like any other priest, Mayega has been looking forward to his ordination after going through the hassle to the final day.
His ordination was set for August 10, 2019.
However, as fate would have it, he died barely a week to the day. He died at St Francis Hospital Nsambya. The cause of death could not readily be established.

He wrote while inviting his friends to his ordination ceremony: "I want to thank you dearly for being part of this great journey yet so honorable noble and dutiful a task of leading, teaching and sanctifying God's people. Come on 10th August 2019, the lord has manifested His will through this. I will be ordained a priest. Thank you for being of such great support and encouragement to me."
A Catholic deacon is an ordained minister of the Catholic Church. There are three groups. Deacons can baptize, witness marriages, perform funeral and burial services outside of Mass, distribute Holy Communion, preach the homily (which is the sermon given after the Gospel at Mass), and are obligated to pray the Divine Office (Breviary) each day.