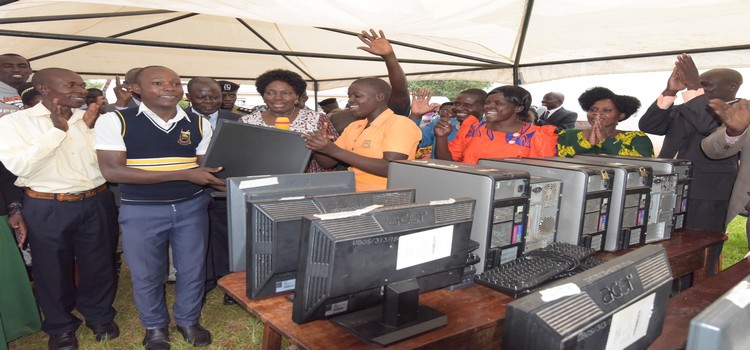 Speaker of Parliament Rebecca Kadaga has called on parents to support their children in school so as to groom a future generation that can take Uganda's economy to an international scale.

Kadaga emphasizes the need for youth to engage in practical skills throughout their academic lives, so as to be well grounded for the labor force.

"We need to attach more value to our technical institutions because they give our children hands on skills, which protects them from the burden of unemployment because they can set up their own enterprises," Kadaga says.

The Speaker made the remarks while donating over 2000 chicks to Nawanyago Technical Institute in Kitayunjwa sub-county, Kamuli district on Friday, 09 August 2019.

The institute is being set up with a demonstration farm to aid students to get practical agricultural skills that can be utilised in the sector's job market.

Kadaga added that Government was undertaking to set up polytechnic institute around the country, adding that Namwanja Technical Institute would also be elevated to a polytechnic status.


The area Member of Parliament (Bugabula South) Hon. Henry Maurice Kibalya, advised youths in the area to take advantage of the institute, to set themselves apart with practical knowledge and skills.

The Kamuli Resident District Commissioner, Hajji Moses Dumba said that funds provided by Government to the district had not been taken advantage of by the public, and called on youth to utilise the Youth Livelihood Fund for their development.

"These funds are there at the district and our youth have failed to utilize them because they do not know how to access them. You need to engage the district officials to guide you on how to tap into these resources," Dumba said.

The Speaker also made a donation of 18 desktop computers to three schools including Naminage Mixed Primary School, Bulopa Secondary School and Nawanyago Technical Institute; with a call to promote adequate academic research.