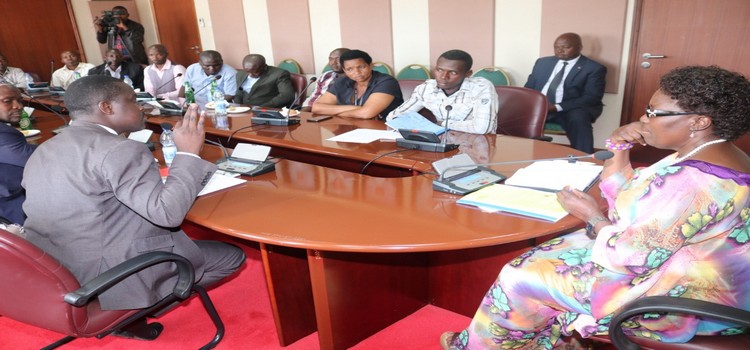 As Parliament concludes investigations into alleged illegal eviction of artisanal miners in the country,  residents of  Kitumbi sub-county in Kasanda district want Parliament to come to their aid on what they termed as 'misplaced eviction'.

Residents led by their area MP, Hon Michael Bukenya are aggrieved that whereas the 2017 Presidential directive on eviction targeted artisanal gold miners, the security operatives in Kitumbi sub-county instead evicted residents within communities surrounding mining areas who had nothing to do with mining.  

"We want you to tell the President that the people he sent to evict gold miners did not evict miners but us residents and land lords. We are also unhappy that gold miners were re-instated; so, why can't they return our property?" Ssebumba Martin said.

Residents presented their petition representing 100 households in Kitumbi Sub County to the Speaker of Parliament, Rebecca Kadaga on Monday, 08 March 2020.

Several petitioners said they once owned businesses and land but have since 2017 become, homeless.

"We had property, we had hotels, others run shops but soldiers gave us minutes to vacate our homes; we left without anything. They did not differentiate between miners and residents, " said Loy Tumubwine
Petitioners requested the Speaker to reach out to President Museveni to direct the Mineral Protection Unit officials to vacate their properties and to intervene in land grabbing cases.


They singled out property owned by Kayonza Company Ltd which is said to have been destroyed by the mineral protection unit. Petitioners added that security operatives forcefully took possession of part of the company's property and that efforts to demand for justice is often met with threats and harassment.

"We initially engaged the head of the unit, Jesca Kayigomba and she had allowed these people to resettle in their homes but when they went they were chased by the mineral protection unit," Hon Bukenya said adding that, "when we tried to go back using our local means, the mineral protection police deployed heavily".

Kadaga expressed her dissatisfaction with the operations of state agencies in handling civilian matters and pledged to task Parliament to review the legal mandate of the mineral protection unit.

"It is very unfortunate on behalf of the state. In other parts of the country, they have chased people from the lakes and now they have moved to mineral areas," said Kadaga.

She promised to refer the matter to the relevant House Committee and also present during a plenary sitting of Parliament before approaching the President.