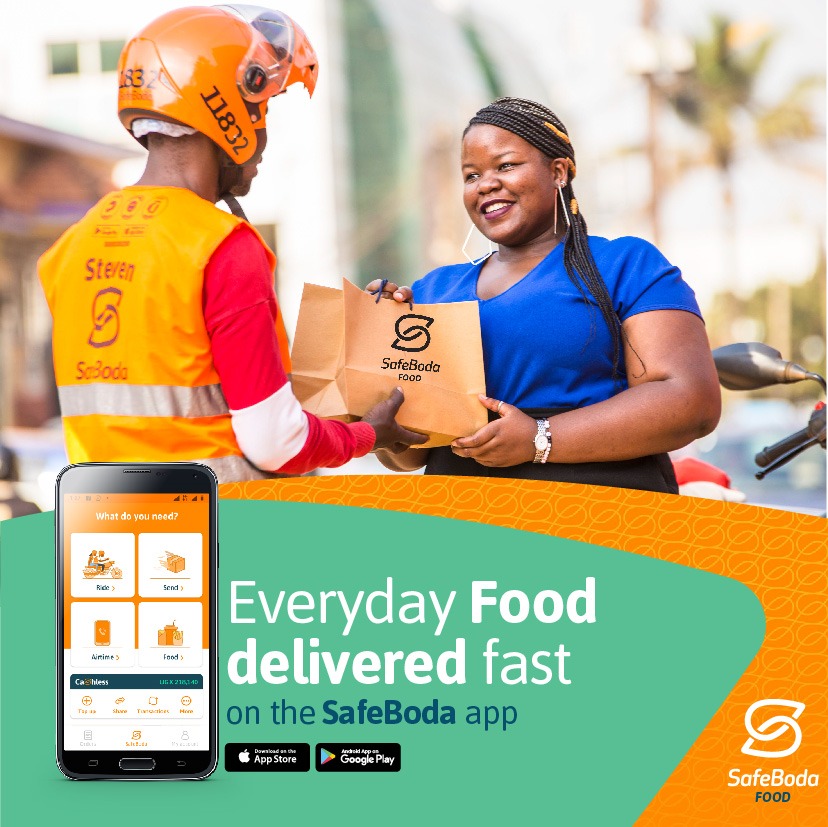 Uganda's leading digital transport service provider SafeBoda has again pioneered another poverty eradication drive aimed at empowering local small scale entrepreneurs.
With the inspiration driven from their mission, "To empower local entrepreneurs to thrive, by driving the adoption of technology especially in the informal sector." SafeBoda has successfully pioneered the local food delivery just like they championed the move of professionalizing the boda boda industry.
In one on one interview with Ms. Brenda Nambatya the Head of Food Marketing, food will be ordered on the already existing platform implying there will not be need to download another application.
"Our entire Purpose is to empower the local entrepreneurs in the informal sector. Besides the boda boda riders industry, food has more than 30% of the people in informal sector are involved in food processing for economic reasons. The biggest challenge is that the demand is available but the accessibility has been a gap and this is what we have come to bridge." Ms. Nambatya said.
Nambatya added that the SafeBoda business already has close 18000 riders who have all been sanitized on this move of delivering food across the city and nigbouring towns of Mukono, Wakiso, Kira and Entebbe.
Why food?

According to Nambatya, Food is a necessity just like travel. Putting in consideration the research by UN's Food and Agricultural Organization, which revealed how food processing accounts for more 30% of the informal market and provides economic opportunity for the poor or marginalised in urban centres.
"We know that street food has been recommended as a good way to diversify household income, however, access to traditional and street food is still a challenge. And this is where the SafeBoda app comes in; to provide easy access to vendors to unlock new markets and to provide customers with easy access to traditional and street food." Nambatya elaborated.
On speaking on what makes SafeBoda food delivery unique compared to similar service providers, she noted that as a typical Ugandan, she loves traditional and street food!
"More importantly, I am proud to be part of the team at SafeBoda that is pioneering food delivery using an app, to ensure that Ugandans can order for food easily and we shall be able to deliver food at an average time of 30 minutes.
Do you have any restaurants you have partnered with?
Yes, absolutely! Just like we have done with our SafeBoda riders, we are working with vendors to build a strong community of food service providers in the informal sector.
We pioneered the Kyakulya (loosely translated as something to eat) brand, a brand that is a representation of traditional and street food which means that using the SafeBoda app, our customers can order all foods with traditional sauces of their choice like binyebwa, beef. They can even order the legendary rolex or fruits.