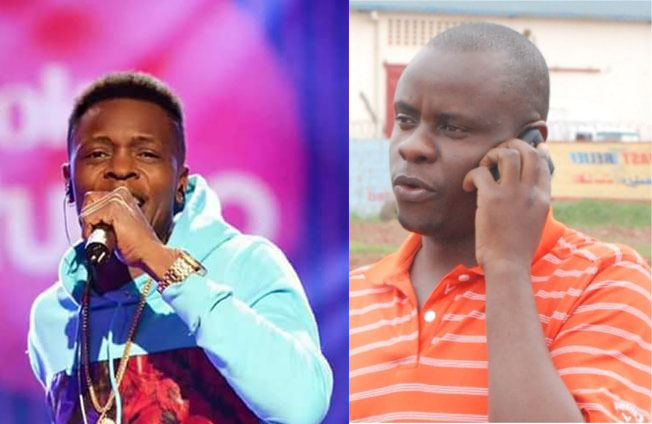 Famous events promoter and marketer Balaam Barugahara has warned longtime ally Joseph Mayanja aka Jose Chameleone to stay away from that put him at log heads with government officials.
This came as the Radio 4 boss distanced himself from allegations that pinned him to ordering the Uganda Revenue Authority to impound Jose Chameleone's Toyota Land Cruiser V8 on Easter Monday.
Balaam denied conniving with URA law enforcers to impound the Baliwa singer's ride in a phone call interview with Simon Maseruka during his Top 8 Countdown program on Bukedde FM last night.
When Maseruka questioned Balaam about the video clip of him allegedly issuing orders to URA, he quickly denied the allegations stating that he doesn't know anything concerning Chameleone's vehicle.
"I don't know anything concerning Chameleone and URA about his vehicle. Just ignore those rumors. Ignore them." Balaam said adding that Chameleone needs to know how to deal with some issues that may give him bad publicity.
The car, a Toyota Land Cruiser V8 valued at over Shs. 100m was yesterday impounded bu URA over taxes said to be about Shs. 120m.

However news reaching our site indicates that city Tycoon Brian Kirumira aka Bryan White has said he is ready to help the Bayuda singer in his latest battle to save his cruiser.
Brian Kirumira aka Byan White, who was an the scene when URA impounded Chameleon's car on Easter Monday from his Seguku Home, has reportedly pledged to sort out all the withstanding taxes.
This came after Chameleon failed to produce the required documents for the vehicle's registration.
At the moment, the car is under URA's possession as taxmen continue to evaluate and compile a report on what to do next to the hopeful Mayor who has had a brush with URA before.