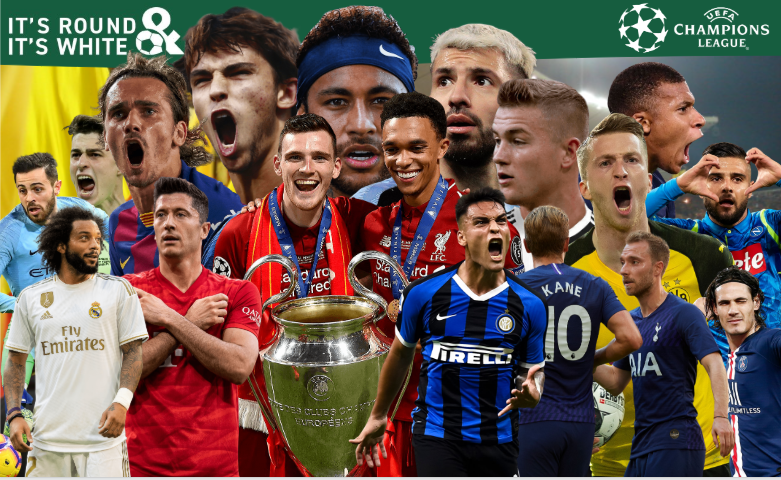 SuperSport viewers on DStv and GOtv can look forward to a thrilling weekend of European football action, as your Channel of Champions broadcasts live action from the Premier League, La Liga and Serie A from Friday 26 to Monday 29 June 2020.
SuperSport is your home of football and the best place to see all the action from around the world as #LiveSportReturns.
The truncated weekend action in the Premier League, due to the FA Cup quarterfinals, opens on Saturday with Aston Villa hosting a key game against Midlands rivals Wolverhampton Wanderers. "Games against Wolves have become increasingly spicy in recent seasons and this is a key clash for us," said Villa manager Dean Smith, as the Lions battle against the prospect of a drop down to the Championship.
Sunday brings another key battle in the relegation dog fight, as Watford host Southampton at Vicarage Road, before Monday night sees Ivorian Wilfried Zaha looking to weave his magic for Crystal Palace when they play host to rough-and-tumble Burnley at Selhurst Park.
This weekend of La Liga action is headlined by the continuing title battle between Barcelona and Real Madrid. Once again the Catalans will be in action earlier than their rivals from the capital, with Barca away to Celta Vigo at Abanca-Balaidos on Saturday afternoon and looking to avoid a repeat of their last visit to the Galician venue, which ended in a 2-0 defeat in May 2019.
Barcelona will look, as ever, to Lionel Messi for inspiration, though the return of Luis Suarez from long-term injury has also boosted their attacking power. "He was spectacular if we consider how long it has been since he's played, I am sure we're going to see more and more as the league progresses from him," said Barca manager Quique Setien of the Uruguayan striker.

Real, meanwhile, will wait until Sunday night for their clash away to Espanyol and hope to repeat the 2-0 win they claimed when the teams met in Madrid back in December 2019, a game decided by goals from Raphael Varane and Karim Benzema.
The weekend's Serie A action opens with champions Juventus given the chance to put pressure on their title rivals when they play at home to Lecce on Friday night. The Bianconeri were held to a surprise 1-1 draw by the Salentians when the teams met back in October 2019, but Cristiano Ronaldo and teammates will be determined to set the record straight in Turin.
"It's going to take a while to get the fitness and mentality back to 100 percent," said Juve manager Maurizio Sarri. "We need to make sure we don't make the mistake of allowing out tempo and intensity to drop, even in empty stadiums with no fans to inspire us."
Lazio will have the chance to respond on the night of Saturday 27 June when they host Fiorentina in Rome. Le Aquile trumped the Viola 2-1 in Florence back in October 2019, but it was a fiery game which saw three red cards – a similarly tempestuous encounter could be on the cards for SuperSport viewers this time around.
Internazionale will have to wait until late the following day to have their clash at Parma, with Antonio Conte hoping his team continue to play with the intensity thathas characterised their season thus far. "We can improve our determination in front of goal, but I have no other complaints, as we tested out what we did in training and I am much more satisfied with the movement than I was," said the Nerazzurri boss.
No rival can compete with SuperSport's coverage. Our viewers on DStv and GOtv can see all their favourite stars from the African continent dominating Premier League, La Liga and Serie A pitches across England, Spain and Italy!
Don't miss the conclusion of the 2019-20 football season on DStv and GOtv. Visit www.dstv.com and www.gotvafrica.com to subscribe or upgrade, and join in on the excitement. And while you're on the move, you can stream matches on DStv Now.
Please note that due to travel restrictions, SuperSport is unfortunately temporarily unable to provide any local commentary on the above sporting action.
Premier League fixtures and broadcast details – 27-29 June 2020
Saturday 27 June
13:30: Aston Villa v Wolverhampton Wanderers – LIVE on SuperSport 3, SuperSport Maximo 1, SuperSport Maximo 360 and SuperSport Select Go 2
Sunday 28 June
17:30: Watford v Southampton – LIVE on SuperSport 4
Monday 29 June
21:00: Crystal Palace v Burnley – LIVE on SuperSport 3 and SuperSport Maximo 1
La Liga fixtures and broadcast details – 26-29 June 2020
Friday 26 June
22:00: Sevilla v Real Valladolid – LIVE on SuperSport 7, SuperSport Maximo 360, SuperSport Select Go 2 and SuperSport Select Go 4
Saturday 27 June
14:00: Athletic Bilbao v Mallorca – LIVE on SuperSport 7, SuperSport Maximo 2 and SuperSport Select Go 4
17:00: Celta Vigo v Barcelona – LIVE on SuperSport 7, SuperSport Maximo 360, SuperSport Select Go 2 and SuperSport Select Go 4
19:30: Osasuna v Leganes – LIVE on SuperSport 7, SuperSport Maximo 2 and SuperSport Select Go 4
22:00: Atletico Madrid v Deportivo Alaves – LIVE on SuperSport 7, SuperSport Maximo 2 and SuperSport Select Go 4
Sunday 28 June
14:00: Levante v Real Betis – LIVE on SuperSport 7, SuperSport Maximo 2 and SuperSport Select Go 4
17:00: Villarreal v Valencia – LIVE on SuperSport 7, SuperSport Maximo 2 and SuperSport Select Go 4
19:30: Granada v Eibar – LIVE on SuperSport 7, SuperSport Maximo 2 and SuperSport Select Go 4
22:00: Espanyol v Real Madrid – LIVE on SuperSport 7, SuperSport Maximo 2 and SuperSport Select Go 4
Monday 29 June
22:00: Getafe v Real Sociedad – LIVE on SuperSport 7, SuperSport Maximo 2 and SuperSport Select Go 4
Serie A fixtures and broadcast details – 26-28 June 2020
Friday 26 June
21:45: Juventus v Lecce – LIVE on SuperSport 9, SuperSport Maximo 2 and SuperSport Select Go 5
Saturday 27 June
17:15: Brescia v Genoa – LIVE on SuperSport 9, SuperSport Maximo 2 and SuperSport Select Go 5
19:30: Cagliari v Torino – LIVE on SuperSport 9, SuperSport Maximo 360, SuperSport Select Go 2 and SuperSport Select Go 5
21:45: Lazio v Fiorentina – LIVE on SuperSport 9, SuperSport Maximo 1 and SuperSport Select Go 5
Sunday 28 June
17:15: Milan v Roma – LIVE on SuperSport 9, SuperSport Maximo 2 and SuperSport Select Go 5
19:30: Udinese v Atalanta– LIVE on SuperSport 13
19:30: Sampdoria v Bologna– LIVE on SuperSport 11
19:30: Sassuolo v Hellas Verona– LIVE on SuperSport 12
19:30: Napoli v SPAL– LIVE on SuperSport 9 and SuperSport Select Go 5
21:45: Parma v Internazionale– LIVE on SuperSport 9, SuperSport Maximo 360, SuperSport Select Go 2 and SuperSport Select Go 5