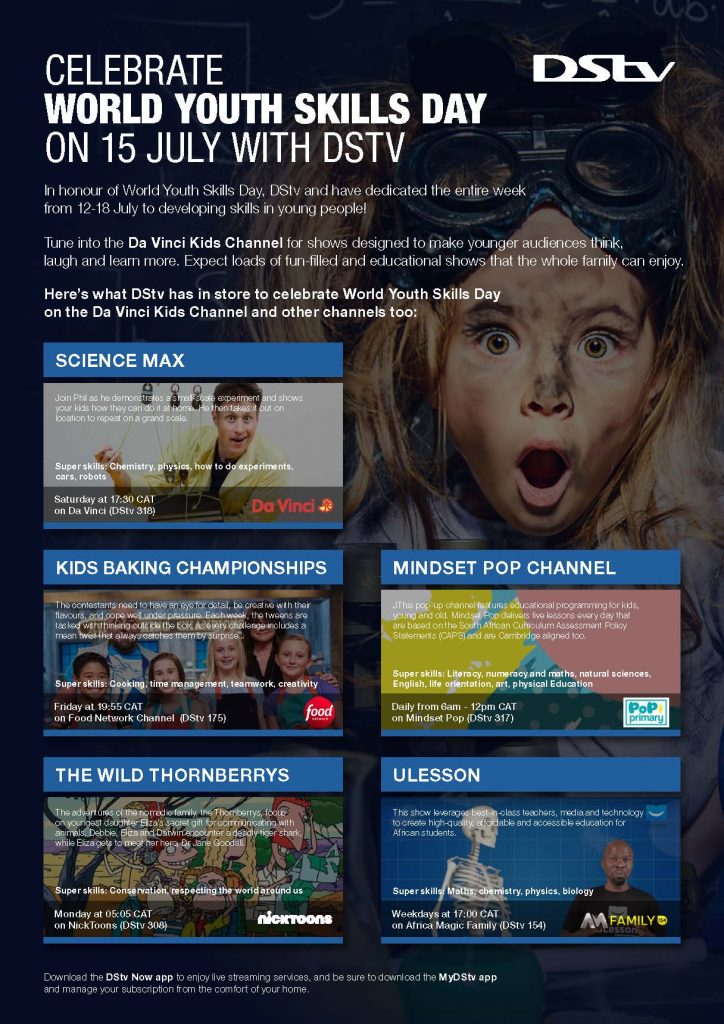 Skills development of young people is key to ensuring the sustainability of a country. And with lots of kids not able to go to school at the moment, helping young people develop skills has never been more important.
World Youth Skills Day is celebrated every year on 15 July to raise awareness of the need to build skills in young people.
DStv and GOtv care about the African youth and have embraced skills development by providing thought-provoking, educational and entertaining TV programmes and movies for kids of all ages. That way, they can learn while being entertained – it's a win-win!
The Da Vinci Kids Channel features shows that are designed to makeyounger audiences think, laugh and learn more. Tune in for fun-filled and educational shows that the whole family can enjoy. From educational shows that focus on science, maths and technology, to engaging content on history, nature, sports and culture, tune in for the best in kids' edutainment.
Tune in to DStv and GOtv to enjoy fun and educational programs that can help develop useful skills.
1. DA VINCI KIDS CHANNEL

Skill: Arts & Craft
On 12 July, Da Vinci Kids will launch an awesome series called Sunday Morning's Arts and Crafts. Inspire your children to develop their curiosity about and understanding of art. This series is bound to bring out the artist in everyone who watches it!
Learn more about the beauty of arts and crafts on Sunday, 19 July. Check it out on DStv Channel 318 and GOtv 66 (166 Ghana & 366 Uganda).
We love these inspiring shows:
The History of Art – A Mirror of Nature at 06:55 CAT
Art with Mati and Dada at 06:00 CAT & 06:07 CAT
Totally Rubbish at 14:15 CAT
2. HOME CHANNEL
Skill: Car making / Car design / DIY
In Design Junkies, ten inventive people compete to make the most beautiful creations out of trash. Car wrecks, washed-up items found on the beach and the weekly bulky waste of a city. Which contestant is the most creative in turning garbage into wonderful new objects?
Find out on Wednesday, 15 July at 14:00 CAT on DStv Channel 176.
3. FOOD NETWORK CHANNEL
Skill: Cooking or Learning new recipes
Food Network offers a combination of credible cooking, new culinary ideas and high-energy entertainment to inspire foodies and non-foodies alike. The Kitchen is a great foodie show for the whole family … watch it with your kids on Thursday, 16 July at 19:55 CAT and get inspired to cook something yummy together!
Switch over to DStv Channel 175 so you do not miss out.
4. ZEE WORLD CHANNEL
Skill: Dancing
An enthralling dance competition showcasing extraordinary dancing talent, India Dance: Battle of the Champions is a colourful, magical viewing experience not to be missed! While you learn some new, international dance moves, join the judges on the journey to find the next Indian national dance champion.
Get your dance on Saturday, 18 July at 17:00 CAT on DStv channel 151 and on GOtv channel 25 (125 Ghana & 325 Uganda).
For these and more kids and youth edutainment tune into DStv and GOtv. Download the DStv Now App for live streaming.