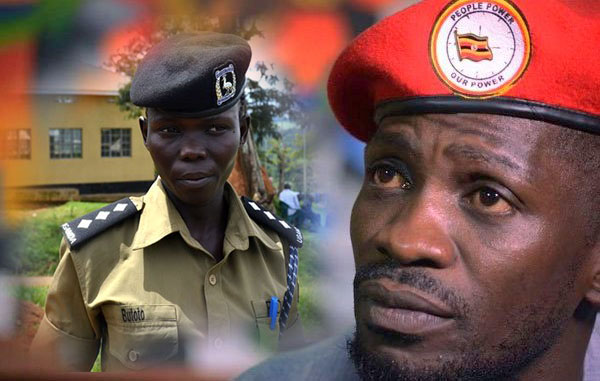 The country is racing into mixed reactions following the continuous deaths of opposition supporters.
Police in Lugazi town in Buikwe District are investigating a case in which one of the supporters of Kyadondo East MP Robert Kyagulanyi alias Bobi Wine died following a car crash at Mabira along Jinja-Kampala highway.
"Earlier today, as I returned from a radio station in Jinja, police and the military employed so much violence against peaceful citizens who gathered to wave at me. Another ardent supporter, Charles Mutyabule was knocked dead by a military vehicle in the full glare of cameras!" Bobi Wine tweeted.
However, police said Saturday that Mutyabule who was riding on a motorcycle in the MP's convoy as he travelled from Jinja city where he had been hosted on a radio talk show died at Kawoolo hospital after being knocked by an unidentified car.
"It was a hit-and-run accident. His motorcycle collided with a yet to be identified double cabin at around 1pm. The double cabin was travelling from Kampala side to Jinja. After the accident, we rushed him to Kawolo General Hospital for medical attention but he died moments after arrival. We recovered his motorcycle and a side mirror of the suspected accident car at the scene," said Ssezibwa regional Police Spokesperson, Ms Hellen Butoto.
She said police are hunting for the driver as investigations continue.
"The side mirror we recovered and the motorcycle he was riding on are at Mabira Police Station," she added.

Dr. Stella Nyanzi Kampala Women MP aspirant also wrote a touching comment wondering why people are brutalized as detailed below.
WHY IS THE POLICE MURDERING US?
Charles Mutyabule, a young man working with Freedom Bodaboda was knocked down by the police. He was riding his bodaboda motorbike as part of the convoy that escorted Bobi Wine from studio in Jinja back to Kampala. Although he was rushed to hospital, he died shortly thereafter. His pregnant wife will one day explain to their unborn child that the police murdered Mutyabule!
Another comrade actively involved in the struggle to liberate Uganda from dictator Museveni lost his life because of murderers masquerading as police officers! Another Ugandan life snuffed out prematurely by uniformed personnel employed to protect the life and property of Ugandans! Another opposition activist murdered by dictator Museveni's state machinery…
I condemn the Uganda Police Force for murdering comrade Charles Mutyabule. I am outraged and in pain because of this totally unnecessary loss of life. Why is the police killing Ugandans? Why is the police building a record of its murder victims from the opposition? Why are Bobi Wine's supporters mercilessly targeted for these reckless deaths? Why? Why, why, why? Why is the police murdering us?
Ebibuuzo bingi nnyo! Webake mirembe Charles Mutyabule! Kino kitalo nnyo, kitalo ddala.