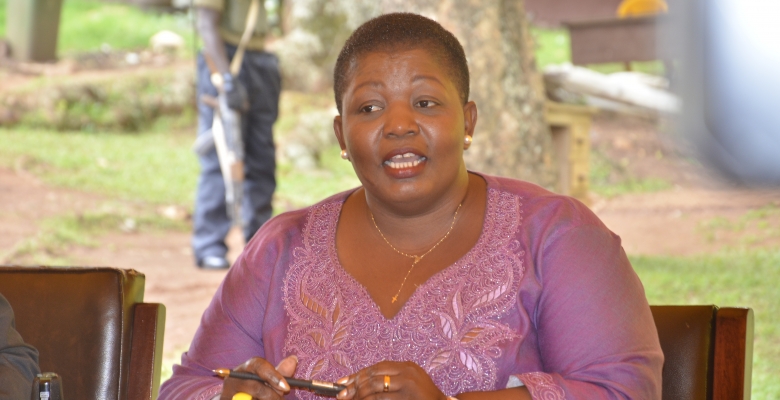 The ruling National Resistance Movement party secretary general Justine Kasule Lumumba has criticized the police and other law enforcement agencies for favouring NRM members while implementing anti-coronavirus guidelines.  

Speaking at the party headquarters at Plot 10 Kyadondo Road in Kampala today, Lumumba said belonging to the ruling party doesn't put anyone above the law. She said that NRM  members should instead be at the forefront of implementing the preventive guidelines because they were issued by their own government.

 Lumumba added that President Yoweri Museveni swore to protect the people of Uganda and their property, therefore, the NRM members who are trying to undercut his efforts should be dealt with strongly. 
Lumumba's comments follow a video showing the minister of Health Dr Jane Ruth Aceng who is aspiring to be the Woman MP for Lira district freely schmoozing with electorates last weekend without wearing a face mask or observing social distancing. 
The state minister for Microfinance Haruna Kasolo and the state minister for Kampala Benny Namugwanya also held mass campaign rallies in their constituencies in which they gathered hundreds of people together, flouting nearly all social distancing guidelines. 
But while the police and other enforcement agencies looked away from Aceng, Kasolo and Namugwanya's transgressions, they, on the same weekend violently arrested opposition Forum for Democratic Change (FDC) spokesperson Ssemujju Nganda's meeting yet the attendees were wearing face masks and observing social distancing.

They also blocked a People Power meeting in Jinja, saying political meetings had been banned by government. 
"Nobody is above the law, security agencies, enforcement officers whether somebody is in a yellow shirt with my yellow logo of the ruling party, if somebody goes against the law, let that person face the law. We're not above the law. So the issue of having security officers favouring others and leaving others shall not work. It is in our constitution and for the same law, we're all equal," said Lumumba.