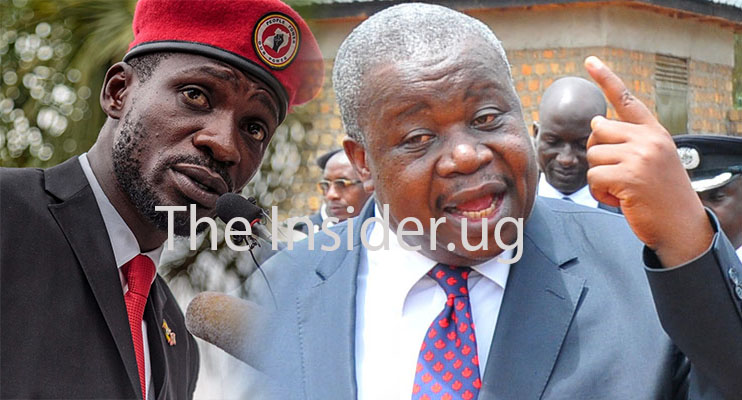 The Minister for East African Affairs Gen. Kahinda Otafiire has joined a league of government officials that have continued to downplay Bobi Wine's leadership capabilities.
Speaking to the ruling party leaders, the former Bush war General stated that Uganda deserves better than someone of Bobi Wine's caliber.
Kahinda Otafiire noted, "I like Kyagulanyi's songs, but he can't lead me. I did not fight in Luweero for Kyagulanyi to lead me. He is a gifted musician but as a leader, he is wanting. Excuse me, Uganda deserves better."
His comment comes barely a week after the NRM Vice Chairperson for Eastern region Captain Mike Mukula said that there no opposition leader who can defeat President Museveni
He said that Gen Yoweri Kaguta Museveni has been a solution to the mistakes made by the previous governments.
"He is not just any other common leader, but a revolutionary leader," said Captain Mike Mukula Thursday at President Museveni's scientific rally at Masaba SS grounds in Budadiri East constituency, Sironko district.

Speaking at Mbale senior secondary school a day before, Mukula asked youth to vote for President Museveni on grounds that he is more qualified than any of the other 10 people challenging him for presidency.
"Someone with a diploma in Music Dance and Drama [MDD] wants to lead this country called Uganda. This is not a theatre," he said, referring to National Unity Platform presidential candidate Robert Kyagulanyi aka Bobi Wine.
"There is no opposition I cannot defeat. What are you opposing?" said President Museveni, reinforcing Mukula's message, when he took to the podium.
"When we were in Luweero fighting, we had some Uganda People's Congress [UPC] there. Even though we were fighting, I would go to the UPC people and ask them what are you fighting for? Like now what are they opposing exactly? You should talk to them."