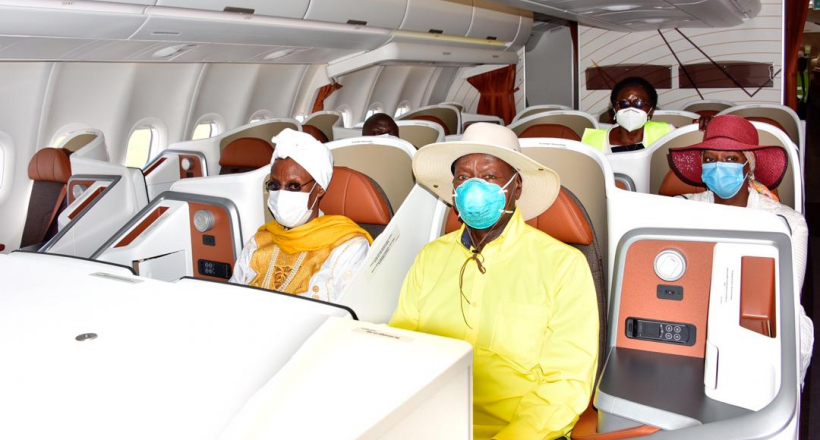 President Yoweri Museveni has warned management of the revived national carrier Uganda Airlines to desist from acts of corruption as the government shall not tolerate this anymore. The President was speaking on Tuesday as he received the first of two Airbus A330 neo flag carriers recently acquired by the country.
Uganda Airlines which was revived last year, received the first of its two new Airbus A330-neo flag-carrier, the latest version of the most popular wide body airliner. President Museveni who was the chief guest at the function congratulated Ugandans upon this and encouraged everyone to support the national airline.
The president also warned the management, staff and officials of this airline to desist from corruption that might cripple the business. "I congratulate Ugandans upon this achievement and encourage each one of us to support our own. To the management, staff and officials, I do not want to hear of any corruption in the Airlines, I do not want to even smell a little of it,'' Museveni warned.
The President has lately spoken vehemently against corruption which has continued to dampen the scores that his government has recorded over the last 34 years. He recently launched a new anti-corruption drive onto of appointing a team under State House to investigate and bring to book government officials involved I graft.
The State House team headed by Mr Museveni's close confidant Maj Edith Nakalemahas investigated hundreds of cases and several officials languish in jail.

The Uganda Airlines closed operations more than 20 years ago, having suffered gross mismanagement and embezzlement by its previous management that run it before the NRM came to power in 1986. By the time of the takeover of government, the NRM inherited a collapsing airline that was forced to close. T
Museveni also said that he is hopeful that this Airline will help the country to boost tourism and travel across the world. Uganda has over the years lost more than $400 million in travel fees every year.
''The revived Uganda airlines will support our economic growth by facilitating transport and tourism. It will be a major boost if the$400 million Ugandans spend annually on air travel comes to our own airline,'' he said, adding that, Uganda airlines, will directly and indirectly provide jobs to Ugandans.
"Air transport is one of the world's most important industries. Its development and its technical and service achievements make it one of the greatest contributors to the achievements of modern society.''
The new A330-neo Airbus Rolls-Royce Trent 7000 powered engine was bought at about Shs5 trillion. It is configured with 20 full-flat business class seats, 28 premium economy class seats and 210 economy class seats, totalling 258 seats.
According to Uganda Airlines, the new craft is planned to take on new routes including Guangzhou and Beijing cities in China, Heathrow Airport in the UK, and Dubai in the United Arab Emirates.
Uganda Airlines has been operating a fleet of four CRJ900 Bombardiers mainly within the region and South Africa. The two airbuses, with one expected to be delivered in January 2021, would make them six aircraft.