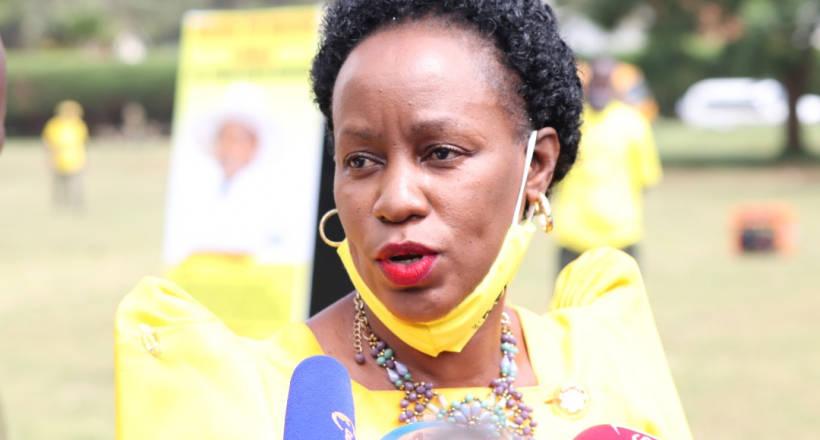 The Bukomansimbi NRM Woman MP flag bearer, Florence Nakiwala Kiyingi has warned the people of Masaka against voting for people she termed as jokers in the forthcoming 2021 election.
Speaking ahead of President Yoweri Museveni, the NRM presidential flag bearer, Nakiwala said for long, voters in Masaka have cherished leaders who almost resemble them and not jokers.
"The people know inside their hearts who to support. The people of Masaka are farmers, have their permanent houses and will therefore vote someone who looks like them and not jokers," she said.
"It is not about shouting but being a mirror of the people of Masaka. I am a clear image of the people of Masaka. You must be religious and cultured in your way of behavior so as to be voted for."
The NRM flag bearer noted that for someone to be voted in Masaka, they must have attributes almost similar to those of the voters in the area, adding that the people can't accept to voter for jokers.

Nakiwala rallied the people of Greater Masaka to vote for President Museveni for granting a city status to Masaka, roads, electricity, piped water and other development programs extended to the region in this term.
Mr Museveni is contesting against 10 other presidential candidates including two of his former colleagues in the liberation struggle. Several opinion polls conducted have placed the NRM strongman ahead of his competitors with well more than 60% of the votes. Voting will happen on January 14, 2021 and as Mr Museveni wins up his scientific campaign every indication points to a landslide as no candidate has this time leveled up to voters' expectations.
The NRM presidential flag bearer later addressed party leaders, flag bearers and youth leaders from the Greater Masaka districts of Masaka, Masaka City, Bukomansimbi, Ssembabule and Lwengo at the Masaka Liberation grounds about the party's success story and how to secure their future in a scientific function.