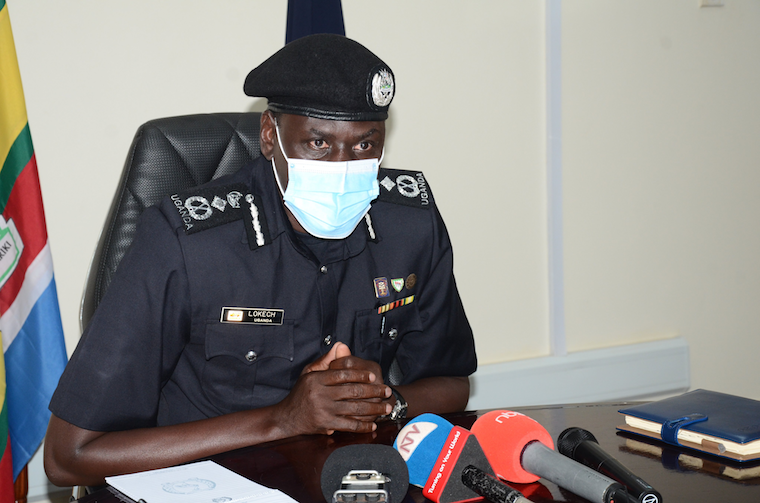 The newly-appointed deputy inspector general of police, Maj. Gen. Paul Lokech has blamed police guards of presidential candidate John Katumba for the fracas in Fort Portal in which police officers fought between themselves over his foiled arrest.
The country was treated to embarrassing scenes on Wednesday when Katumba's guards fought off plain-clothed police officers as they attempted to arrest him. Katumba's clothes were torn in the process but his guards stood firm and held off their fellow colleagues.
Now, Lokech says it's Katumba's guards to blame for failing to follow standard operational procedures, which according to him, include introducing themselves to the area security apparatus. 
The area police wanted Katumba to pass through Bukwali village as he headed to Bunyangabu district, but Katumba insisted on passing through the heart of Fort Portal city. During the scuffle, his bodyguards helped him escape arrest after a long fight with police commanded by Kabarole and Fort Portal district police commander, SP Oesa John Faustine.

While interacting with the press for the first time at Naguru police headquarters, Lokech said that the commander of Katumba's security detail ought to have reported to area police commander for the smooth coordination even before entering his area of command.
Lokech says that the communication between the two security teams is to avoid clashing when candidates refuse to go with stipulated areas/campaign venues which is prohibited by the electoral commission guidelines.
"Going into an AOR of somebody, what I mean for AOR is area of responsibility, the officer must report his presence. The officers who were escorting the presidential candidate must report their presence to the commander of that general location such that the commander knows that they are within that area. At times, they will also need security to back up them where necessary. So I think it was just lack of coordination but the actions, I totally disagree with it. It was very unprofessional," said Lokech.
Lokech has instructed an investigative team to probe all the operational mistakes that were seen in the rules of engagement and the eventual fight.
"I have already instructed the team to investigate. I saw the footage myself. I still don't agree with everything but after they have investigated, I will come out with my position," Lokech added.
Katumba claimed that during the scuffle, police officers squeezed his private parts and has threatened to drag police to the courts over the continued harassment.
"You may me see in running battles with Uganda Police, but anytime from now my lawyers will take action," said Katumba.
He says that now he is going to walk in protest against the manner in which he was handled by police officers while campaigning in Fort Portal city.