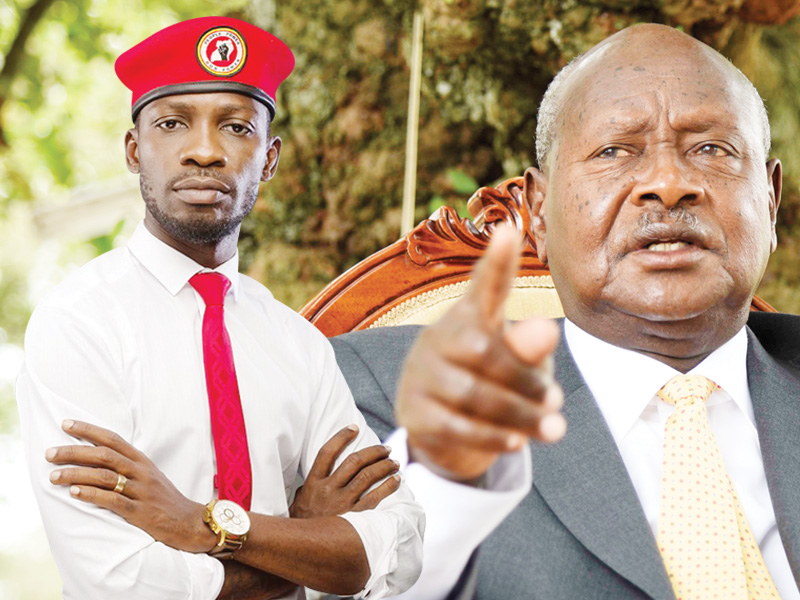 Security were slapped by a fist of reality following a secret poll carried out in December 2020. Though the purpose of this poll was for their in house consumption and planning purposes to determine the most appropriate interventions aimed at easing President Yoweri Kaguta Museveni's re-election chances, the results left them immersed into mixed reactions.
The politically very sensitive inquiry focused on the districts making Greater Masaka where NUP Candidate Robert Kyagulanyi Sentamu is believed to have enormous support. In the same area, the Catholic Church is very strong and indeed the Catholic prelates have lately been very outspoken in denouncing Gen Museveni, his NRM and leading cadres of his system like Vice President Edward Sekandi Kiwanuka, Haruna Kasolo, Nakiwala Kiyingi and Vincent Sempijja among other big name cadres.
The findings were shocking: Gen Museveni will (at best) need divine intervention to score more than 55% of the vote in majority of the polling stations in Greater Masaka including both urban and rural polling centers. The findings indicated that in the remaining few days to polling day, the situation could potentially change for the worst with the Kyagulanyi potential score growing to 55% pushing Gen Museveni to mere 45% or less.
The survey, conducted very clandestinely, established that supporting Gen Museveni had become so risky that none of the ruling party flag bearers (for MP, LC5 or even councilors) was willing to risk openly marketing the President's reelection as they hunt for their own vote.
The findings indicated that whereas NRM, as a party, is still okay to the extent that it can win up to 60% or more of the MP and LC5 positions and councilors, Gen Museveni as a person seeking to continue being President beyond the 35 years he has done so far was increasingly becoming hard brand to sell to the voters in this increasingly urbanizing sub region majority of whose voters are young people basically first time voters.
The findings revealed that, having realized voters' disinterest in retaining their boss as President, majority of the flag bearers or even ruling party-leaning independents, had resorted to marketing their own individual election bids while remaining vague as to who they are backing for Presidency.

This has politically advantaged the NUP campaign caravans (mostly comprising of volunteers from whom voters don't expect any money) to deepen their change message easily popularizing Kyagulanyi as the best choice for Uganda's 10th President. It's this political hostility towards Gen Museveni's reelection that explains why the likes of Dr. Sarah Nkonge (a senior State House employee seeking to become the Lwengo Woman MP) have openly decamped and been campaigning for Kyagulanyi for President in the hope that such can increase her chances against the incumbent Cissy Namujju.
In Kyotera district, many of the LC5 Chairman Patrick Kintu Kisekulo's campaigners have equally found it easier to market his reelection while professing Kyagulanyi Sentamu as the best choice for President and not Gen Museveni anymore. The lukewarm attitude and ambivalence exhibited by the likes of Minister Sempijja or even VP Sekandi, as they struggle to get reelected to their MP positions, has only made things more complicated for Gen YKT Museveni's reelection bid regarding the Greater Masaka vote.