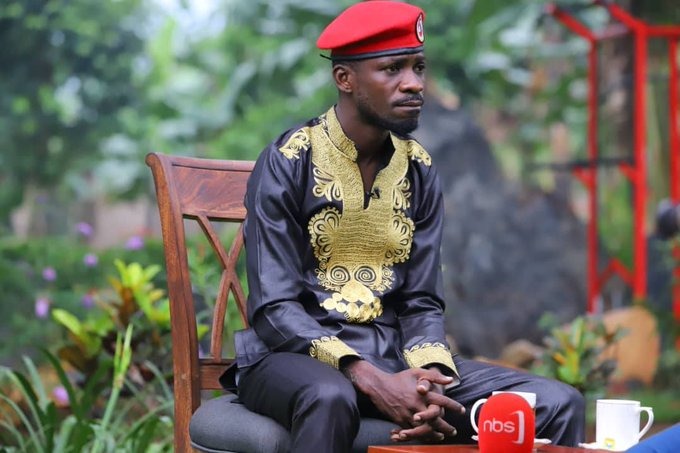 Yesterday evening, Bobi Wine real name Robert Kyagulanyi took to his official media platforms and revealed how he held a bi lateral zoom meeting with his Venezuelan counterpart Juan Guaido whom he addressed as the President of Venezuela.
"I am very pleased to speak with President Juan Guaido of Venezuela this evening. We discussed the way forward for both countries, and the need to build synergies for the defence of democratic principles and human rights across the globe," Bobi Wine said in a post.
Regime apologists are castigating the former presidential candidate for lying to his 'ignorant' supporters that Guaido is the President of Venezuela.The current President of Venezuela is HE Nicolas Maduro and not Guaido. Guaido is a former member of the social-democratic Popular Will party, federal deputy to the National Assembly representing the state of Vargas. On January 23 2019, Guaidó and the National Assembly declared he was acting President of Venezuela starting the Venezuelan presidential crisis by challenging Nicolás Maduro's presidency.
Presidential Press Secretary retweeted Bobi Wine's tweet saying; "But surely. Who doesn't know this chap is an opposition leader in Venezuela? Or is it a case of "fake it till you make it?"
BACKGROUND:

According to Routers, Venezuela's Juan Guaido is a "privileged interlocutor" but no longer considered interim president, European Union states said in a statement on Monday 25th January 2021, sticking by their decision to downgrade his status.
The EU's 27 states had said on Jan. 6 they could no longer legally recognise Guaido as after he lost his position as head of parliament following legislative elections in Venezuela in December, despite the EU not recognising that vote.
Following the disputed re-election of President Nicolas Maduro in 2018, Guaido, as head of parliament, became interim president. Guaido is still seen by the United States and Britain as Venezuela's rightful leader.
The status of interim president gives Guaido access to funds confiscated from Maduro by Western governments, as well as affording him access to top officials and supporting his pro-democracy movement domestically and internationally.
The 27 EU members said in a joint statement that he was part of the democratic opposition – despite a resolution by the European Parliament last week for EU governments to maintain Guaido's position as head of state.
"The EU repeats its calls for … the freedom and safety of all political opponents, in particular representatives of the opposition parties elected to the National Assembly of 2015, and especially Juan Guaido," the statement said following a meeting of EU foreign ministers in Brussels.