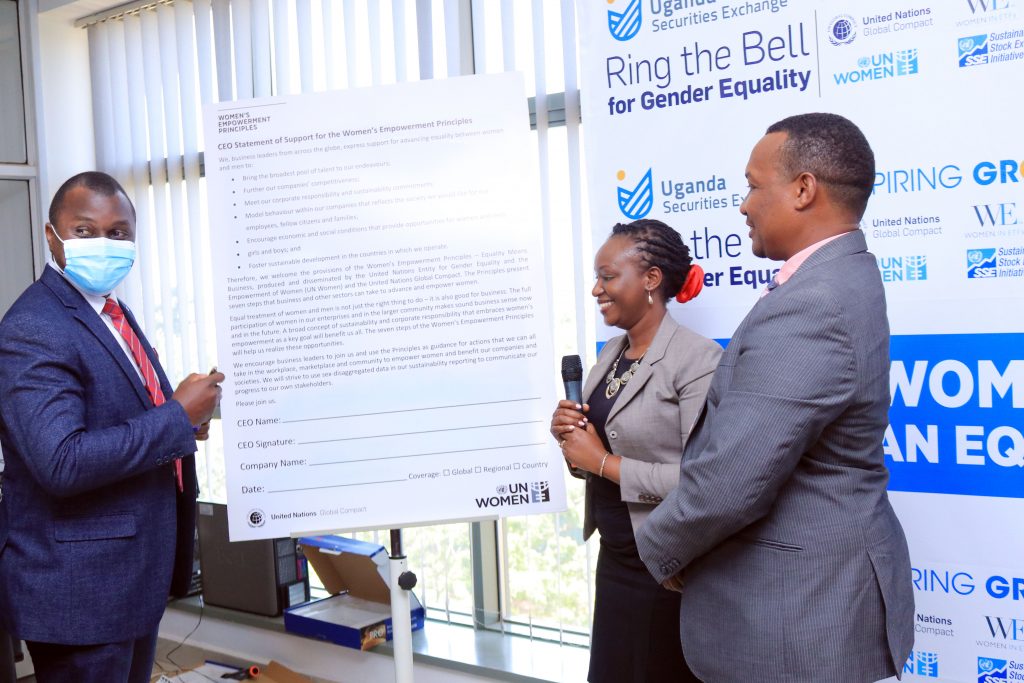 Around the world, the month of March is marked by various initiatives in celebration and recognition of Women's Achievements One such achievement was the creation of the UN Global Compact 'Women's Empowerment Principles' (WEP).
With an overriding theme – Equality means business, the WEPs are a set of principles offering guidance to business on how to promote gender equality and women's empowerment in the workplace, marketplace, and community.
This year, during a webinar hosted by the Uganda Securities Exchange (USE) to mark the 2021 International Women's day, BAT Uganda joined a growing list of local and international corporate organisations that have signed the statement of support.
Candy Wekesa-Okoboi, a Non-Executive Director on the BAT Uganda Board, read out the statement of support at the event. She remarked: "Every year, the USE invites a listed entity to sign the WEPs. We are proud and honoured that this year, BAT Uganda was invited to sign the statement. With this action, BAT reiterates its commitment to advancing gender equity in the organisation"
BAT Uganda's Managing Director, Kirunda Magoola declared : "Gender equity and women's empowerment is rooted in BAT's corporate strategy and purpose to build A Better Tomorrow for its stakeholders. It is embedded within our Ethos, and we have made significant strides in putting words into action by creating a dynamic, inspiring, and purposeful place to work. This includes programmes such as Parents @BAT which offers enhanced benefits for new parents – both biological and adoptive; for example, 16 weeks maternity leave with a return-to-work guarantee and flexible working conditions. It also covers professional development opportunities such as our 'Women in Leadership' training programme and diversity and inclusion activities such as the global BAT 'Diversity week' series."
As a USE-listed company and a leading contributor to Uganda's socio-economic development, BAT Uganda joined other leading organisations in over 90 stock exchanges around the world, in a bell-ringing ceremony to draw attention to the critical role that businesses and financial markets can and must play in tackling gender inequality.