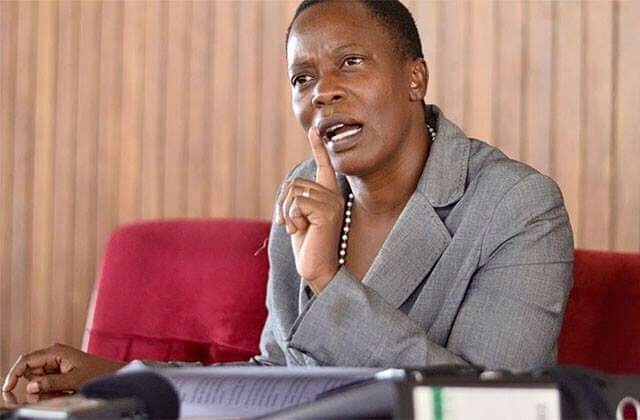 Mukono Municipality lawmaker Hon. Betty Nambooze Bakireke has expressed concern over the state takeover of the funeral of fallen Catholic Church Archbishop Cyprian Kizito Lwanga.
The 68 year old senior clergy breathe his last on Good Friday night in a mysterious manner that authorities have described as heart attack.
Speaking while appearing in live talkshow on Tuesday night, Nambooze said that her son (Kizito Lwanga) deserves to be burried as a hero and locals a cross the city should atleast be given a chance to mourn their Archbishop and son the same way Tanzanians mourned their president John Pompe Magufuli who also succumbed to heart related complications.
"We want Archbishop's be transported along Jinja road, let those carrying the body make a number of stopovers in place a like Nakawa, Kireka, Bweyogerere so that our local people can pay their last tribute to the man of God, just like it was recently done in Tanzania." Nambooze said in somber tone.
She adds that people in Buganda, the Catholic Church and the entire world have been heartbroken with the sudden death of a man who priotiezed values and condemned injustices citing that it would be unfair if locals are chased away from roadsides where they plan to see the body from.

Earlier yesterday, President Yoweri Museveni paid his respect to the deceased Kampala Archbishop Dr Cyprian Kizito Lwanga .
In what has been described as a state mass, only the president, Yoweri Museveni, his wife Janet Kataha, state officials, and religious leaders were allowed to access the mass venue at Kololo Independence grounds.
Among those present included Prime minister Ruhakan Rugunda , vice president Edward Ssekandi ,Speaker of Parliament Rebbecca Kadaga ,Health minister Ruth Acheng ,ICT Minister Judith Nabaakoba, Minister for Presidency Esther Mbayo were present at the event.
Also Religious leaders including Archbishop Church of Uganda his Grace Kazimba Mugalu ,Uganda Catholic Bishops Conference Chairman Joseph Antony Zziwa among others.