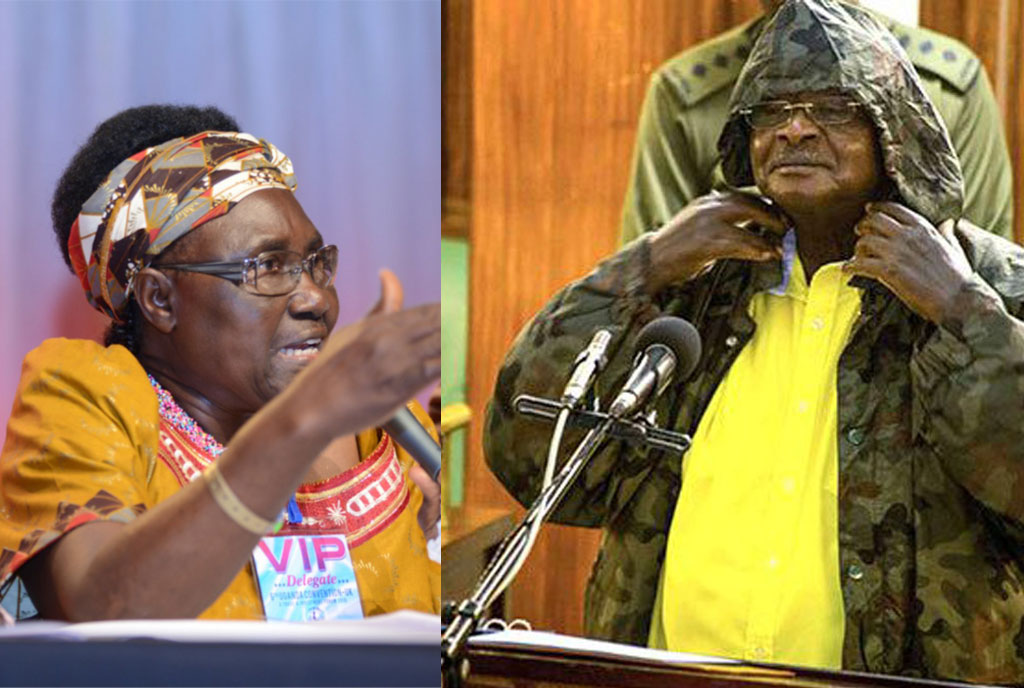 Senior legislator Hon. Cecilia Ogwal has gone at cross roads with several government officials over Uganda People's Defense Forces (UPDF) Budgetary allocations.
Speaking during the Wednesday budget session, the former opposition Chief Whip stated that government and the Ministry of Finance should 𝒓𝒆𝒅𝒖𝒄𝒆 𝒕𝒉𝒆 𝒃𝒖𝒅𝒈𝒆𝒕 𝒂𝒍𝒍𝒐𝒄𝒂𝒕𝒊𝒐𝒏 𝒐𝒇 𝑺𝒉𝒔 6.9 𝒕𝒓𝒊𝒍𝒍𝒊𝒐𝒏 𝒎𝒆𝒂𝒏𝒕 𝒇𝒐𝒓 𝒔𝒆𝒄𝒖𝒓𝒊𝒕𝒚 𝒂𝒏𝒅 𝒈𝒐𝒗𝒆𝒓𝒏𝒂𝒏𝒄𝒆 𝒂𝒏𝒅 𝒓𝒆𝒅𝒊𝒓𝒆𝒄𝒕 𝒊𝒕 𝒕𝒐 𝒑𝒓𝒐𝒅𝒖𝒄𝒕𝒊𝒗𝒆 𝒔𝒆𝒄𝒕𝒐𝒓𝒔.
"We need to critically focus more on sectors that create jobs for the youth and also address the household income." Ogwal stated.
The Dokolo Woman representative added, "As we can see, nothing has been done to include mechanisms for conflict resolutions in maintaining law and order but they are more concerned with buying teargas to harm people and to cause air pollution." Emphasizing that w𝒆 𝒔𝒉𝒐𝒖𝒍𝒅 𝒑𝒓𝒐𝒂𝒄𝒕𝒊𝒗𝒆𝒍𝒚 𝒂𝒊𝒎 𝒂𝒕 𝒂𝒅𝒅𝒓𝒆𝒔𝒔𝒊𝒏𝒈 𝒕𝒉𝒆 𝒓𝒐𝒐𝒕 𝒄𝒂𝒖𝒔𝒆𝒔 𝒐𝒇 𝒅𝒆𝒎𝒐𝒏𝒔𝒕𝒓𝒂𝒕𝒊𝒐𝒏𝒔 𝒃𝒖𝒕 𝒏𝒐𝒕 𝒘𝒂𝒊𝒕 𝒇𝒐𝒓 𝒊𝒕 𝒕𝒐 𝒉𝒂𝒑𝒑𝒆𝒏 𝒂𝒏𝒅 𝒆𝒏𝒈𝒂𝒈𝒆 𝒊𝒏 𝒔𝒕𝒓𝒆𝒆𝒕 𝒃𝒂𝒕𝒕𝒍𝒆𝒔.
She insists that government should focus on income generation sectors like agriculture, tourism, industrialization and others so that the youth and the poor are given opportunity to showcase their potential in sectors of their interests.
"Ugandans have enough land and potential to carry out agriculture and industrialization but unfortunately they lack facilitation sensitization by the government and that is the reason they end up growing crops with no market value." She highlighted.