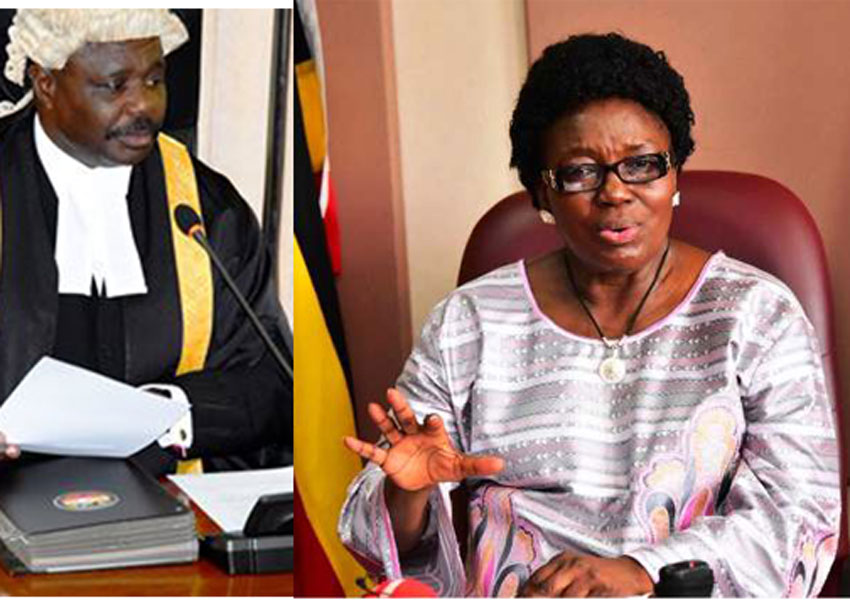 The Speaker of Parliament, Jacob Oulanyah has pledged that the 11th Parliament will pass laws in tandem with those in the Bible.

"We think we are creating new things but we are not. Isaiah 33:32 says, for the Lord is our judge, law giver and the king. In this case, the judge is the judiciary, lawgiver is legislature and king is executive," he said.
Oulanyah said that Parliament which is the lawgiver will ensure all laws passed reflect God's word.
The Speaker made these remarks during celebrations of Uganda Martyr's at the Anglican Shrine in Namugongo on 03 June 2021.

Oulanyah also promised to mobilise the legislators to raise shs100 million towards the Church House debt completion project.

He also urged Christians to emulate the martyrs who sacrificed their lives by supporting the church projects.

The Archbishop of the Church of Uganda, Dr. Stephen Kazimba Mugalu prayed for the lawmakers and asked them to pass laws that fight immorality and moral decadence.


"Let's fight against the rampant murders. Parliament should ensure the public has access to reports of investigations into such murders," said Kazimba Mugalu.
He challenged leaders to be courageous like the martyr's and boldly fight corruption, hatred and nepotism.

"The martyrs faced the fire. We are called to disciple the nation and to do so, we have to be strong," he said.
Kazimba Mugalu also used the prayers as an opportunity to encourage the citizenry to follow the Standard Operating Procedures to curb the Covid-19 pandemic.

"This is the second time we have held scientific celebrations for Martyr's day. We continue to uphold Ugandans who have died of Covid since its outbreak and encourage those who have not yet gone for vaccination to do so," he added.
Uganda commemorates Martyr's Day to celebrate the late 19th Century martyrdom of a group of 23 Anglican and 22 Catholic men. The killings were ordered by the then king of Buganda-Mwanga II.
In attendance were MPs; Hon. Hellen Adoa (NRM, Woman Serere district), Hon. Hellen Grace Asamo (NRM, PWD Eastern), Hon. Christine Apolot (NRM, Woman Kumi district) and Hon. Allan Mayanja Sebunya (NUP, Nakaseke Central County).
In a related development, the Deputy Speaker, Anita Among attended the Martyrs day celebrations at the Catholic Shrine.
The Deputy Speaker appealed to the public to observe the standard operating procedures as the country experiences rising cases of infections of covid-19.
On the political climate in the country, Anita Among said there is need to get to work now that the elections are done with.
"We urge people to get united. We need unity and peace and the leaders, we need to preach about this peace and implement it," she said.