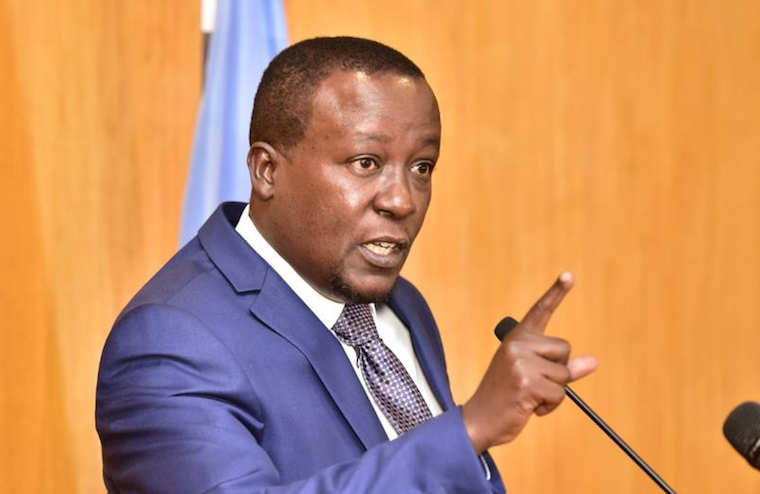 Former presidential aspirant Joseph Kabuleta has warned the government against extending the Covid-19 lockdown.
In a social media post, Kabuleta accuses the experts advocating for the extension as enemies of the majority starving Ugandans.
"With a few days left to the end of the lockdown, it's evident that COFIT profiteerers are spending part of their loot on sponsoring a campaign in New Vision pushing for an extension of the tyranny. Millions of vulnerable Ugandans are starving, some to death, but they don't give a hoot." Kabuleta posted on his facebook page.
He added, "I can bet my middle finger that there will be another story in tomorrow's paper (and consequent ones) quoting other ex-prats, sorry expats, sorry again experts calling for an extension of the house arrest. It's building into a fake crescendo at the end of which there shall be a headline like: "Majority of Ugandans in favor of lockdown extension. Shame on New Vision for being accomplices in this (indirect) slaughter of poor Ugandans."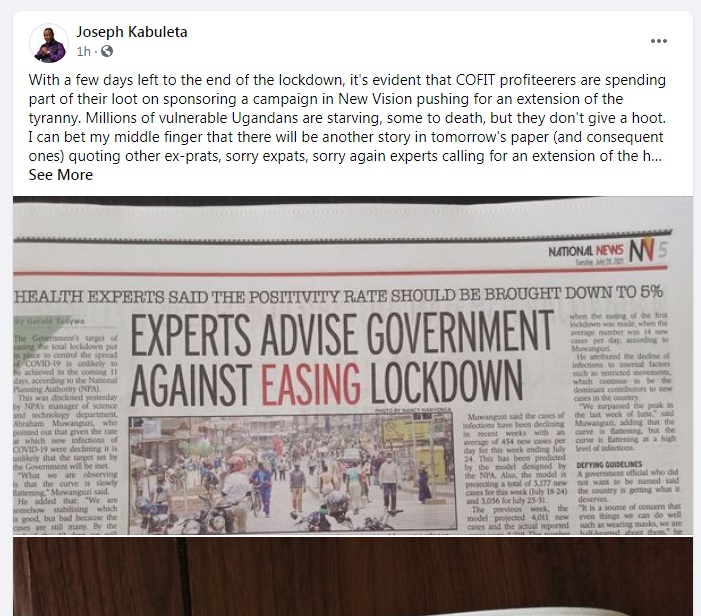 Kabuleta joins Kampala City Lord mayor Ssalongo Elias Lukwago who already weighed in against the move of lockdown extension.

"People are now struggling to survive, deal with other ailments, pangs of hunger and the way they can manage their families and so forth," Lukwago said on NTV this morning.
He added that a significant portion of vulnerable city dwellers especially those in the transport industry are yet to receive the Shs 100,000 Covid relief as promised by Premier Robinnah Nabbanja.
With no plan in place, Lukwago says authorities might be mooting plans to extend the lock down which might backfire.
"I foresee an extension and this is going to be disastrous and this is where we have made a call to Gen Yoweri Kaguta Museveni in the People's Government with Dr. Kiiza Besigye that please, don't dare drag Ugandans to the limit," he said.
President Yoweri Museveni ordered a 42-day lockdown on June 18, 2021 amid rising cases of the virus.
So far, only about 11 days are remaining on the lockdown. Yet while the number of new cases has reduced, Covid19 deaths are still hovering between 25 and 40 a day.