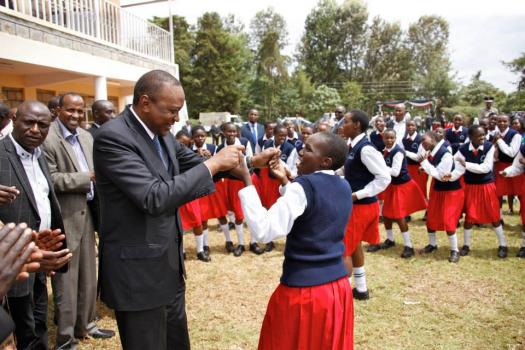 President Uhuru Kenyatta has urged parents to protect their children against being over-exposed to cyber content that could pose dangers to them including bullying, radicalisation and corruption of morals.
President Kenyatta said children must be guided away from falling prey to digitally delivered vices.
"Rather, we need to remind them that these new media are tools, and tools are to be used in a spirit of patriotism. Technology should not be a trap for our children; it is a means to pass on rich, value-laden knowledge. I am confident that that vital lesson will not be forgotten," President Kenyatta said.
The President was speaking at State Lodge, Kisumu, where he hosted this year's Kenya National Drama Festival State Concert – conducted for the first time on a mobile state-of-the-art stage complete with a changing room.
He pitched for the teaching of entrepreneurship education to artists as an avenue to foster talents and benefit the youth.

President Kenyatta said entrepreneurship education would enable young people to nurture and develop their skills so that they can excel.
"We wish to fully explore – we must fully explore – our rich talent for a global audience. After all, aren't we ready, willing and able to go up against the world's best? Of course we are. Aren't our young people as talented as any other country's youth? Of course they are," President Kenyatta said.
He underscored the need to marshal every talent to make Kenya the free and prosperous nation that all Kenyans will be proud of.
"We cannot say we do not know what they want; the issues they have raised here, in poetry, in cultural dance and in drama remind us of the desire we share for a unity of purpose, no matter our diversities," President Kenyatta said as he commended the winners for their sterling performance and topical messages ranging from national values and patriotism to peaceful elections and national cohesion.
President Kenyatta called on all Kenyans to draw lessons from the students, saying their performances represent the face of Kenya as the country prepares for the general election in August.
"We can learn from our students, who epitomise our unity in diversity. They remind us that despite our differences, we are one. We are one people, with the same goal. We are one great nation," President Kenyatta said.
President Kenyatta pointed out that electioneering should not divide the country but rather teach the importance of unity and singleness of purpose.
The President also announced that his administration is undertaking curriculum reforms to equip young people with skills that will enable them compete favourably at the regional and global arena. He observed that delay in reforming the curriculum has long held back the country.
"It is my pleasure to say that my Administration is undertaking these long overdue curriculum reforms. A central part of that effort is the co-curricular programmes, which play such an important part in nurturing talent for individual and national development," he said.
He emphasized that the Jubilee Administration is committed to providing equal opportunities to Kenyan children to enable them fully exploit their potential.
The President commended the festival organisers for implementing his directive on developing a cultural bilateral relationship with Uganda, saying the move is a major leap in promoting regional integration.
"I have learnt that since last year, over 1,000 students have benefited from participating in joint Festivals. We hope that Burundi and Rwanda as well as the other partner states from the region will soon be participating in the joint venture," President Kenyatta said.
President Kenyatta also directed the Ministry of Education and the Teachers Service Commission to explore ways of boosting the morale of teachers who devote their time in preparing participants for the music and drama festivals by improving their welfare. He disclosed that the Government will allocate more funds to promote music, drama and culture.
Other speakers were Education Cabinet Secretary Fred Matiang'i, the Kenya National Drama Festival Chairman Kahura Chokera and Kisumu Governor Jack Ranguma who warmly welcomed the President to the lakeside city.
After the concert, President Kenyatta handed over new music equipment to Super Extra Young band (formerly known as Boyieta Wuod Awasi) from Siaya County.