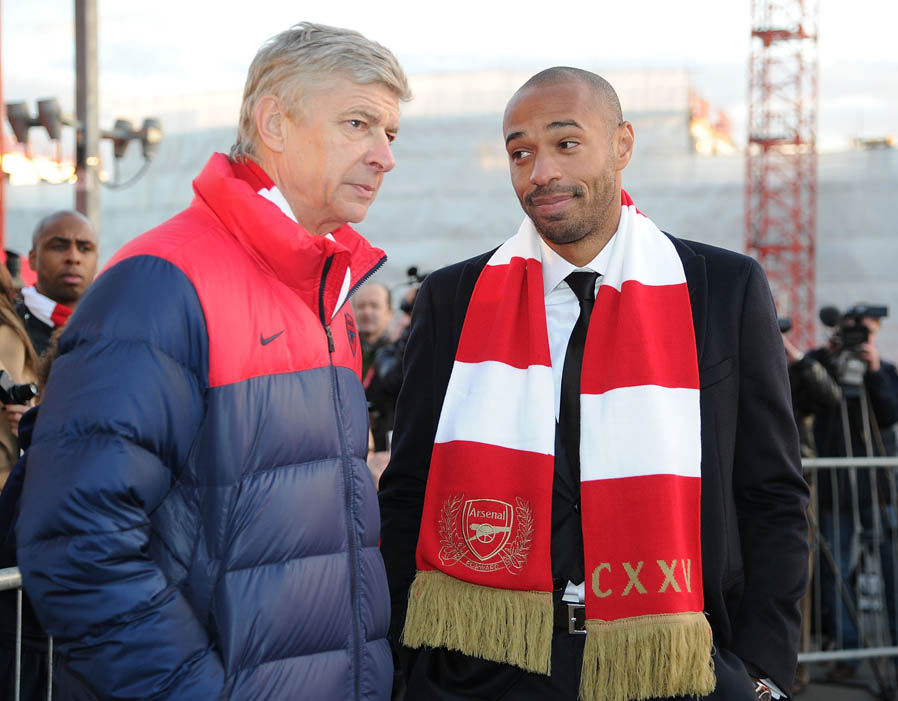 Thierry Henry sat down with Arsene Wenger to talk tactics, three at the back, playing with freedom, and Arsenal v Manchester United.
Henry asked his former manager why he decided to change formation, whether the Gunners are lacking confidence, and if the Nissan Super Sunday clash with United is one of the biggest in his time in charge.
Here's how the interview unfolded.
Boss, thanks for having me again…Don't worry we are not going to talk about your contract, the fans, that sort of stuff. I agree with you that sometimes people focus too much on that and we should talk more about the game. Of course if you have something to share then you can share it and we can have it first…
"My answer is my smile."

Okay…So, you have done something you haven't done for a very long time; you went to a back three. I heard you talk about giving your team some more reassurance at the back. Is that the only reason?
"I believe if you look overall at our season we have conceded a respectable number of goals, but recently we conceded too many away from home when teams went directly at us. That's one of the reasons; to give a bit more security through the middle.
"The second one is that I have players who suit it. Alex Oxlade-Chamberlain, for example, has the qualities to play at wing-back with the freedom to go forward and get better use of the width of the pitch.
"It allows you to play with two players further forward and change sides when you are under pressure. Overall the system is no more than the way you spread your forces on the football pitch.
"Then when you go into a system like we do it depends on the individual characteristics of the player. You understand having played up front that if you played three defenders like Sol Campbell you would be fantastic defensively. But if you played three Thierry Henry's as centre-backs you might be better offensively but not as good defensively.
"There has to be a balance. It has worked in some games until now. Sometimes when the team has a drop in belief it helps them to focus on something else to give them hope to be more efficient."
In some games there is more resilience in the team at the back as a unit, but where I am a bit worried at times – and I know it's a new system and will take time to adapt – is on the ball, especially when the team gets the ball back in transition.
When you played against Manchester City and Tottenham you were very direct at times, almost bypassing the midfield and playing long to Olivier Giroud. How much was that you asking that and how much was it the players doing it in the game?
"You know me well enough to know I am not asking that. Against Man City in the first half, we were a bit cautious in the system and in the second half we had a bit more freedom and more possession. In the first half, it was 70-30 and the second half was more balanced, maybe 45-55.