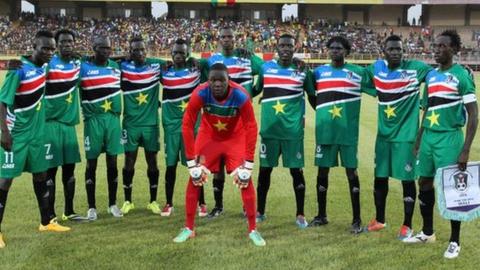 South Sudan's national football team cannot afford to travel to Burundi for its upcoming 2019 Africa Cup of Nations qualifier this month due to funding gap, a senior official said.
Speaking to Radio Tamazuj on Thursday, Agum Ring, Undersecretary of the National Ministry of Youth and Sports, said the ministry didn't' have enough budget to pay for the transport for the national team to travel to Burundi.
However, Agum pointed out that they are still looking for money to avoid placing the team at risk of being banned from its qualifying match.
According to the senior official at the ministry, the national team is expected to travel abroad on Friday.
Last month, the South Sudan Football Association appealed to the public to contribute money to enable the Bright Stars to go to Burundi for its 2019 Africa Cup of Nation qualifier.

In August 2016, South Sudan's Ministry of Youth and Sports faced challenges in providing the funding required to transport the team to Equatorial Guinea for the African Cup of Nations qualifier in Malabo.