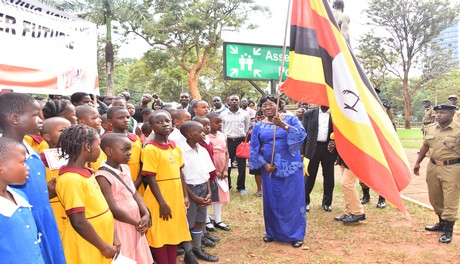 Children have pledged to put off sexuality until marriage as parents and teachers petitioned the Speaker of Parliament, Rt. Hon. Rebecca Kadaga, to ban the distribution and use of contraceptives to youngsters.
"We choose to take on this challenge and to build our lives and character on values that are based on the truth," the children from various schools read out from a prepared text of what they referred to as the BANG – Becoming A New Generation Declaration.
The function was held at the start of a march through Kampala, at the Parliament, today, Friday 16th June 2017.
"We choose to be responsible, hardworking and to have a positive attitude towards life. We choose to live and get along with Ugandans of all tribes and races irrespective of their social, political and religious backgrounds," the children said adding that, "We know who we are. We respect and value our bodies. We honor marriage and family. We choose to keep our sexuality for the right time of marriage."
Stephen Langa, the Head of Family Life Network, who led parents and teachers in presenting their petition to the Speaker, said that children did not need contraceptives, but guidance and counseling. He said that children need to be encouraged to continue with their education and understand that sex is for adults.

"Research has shown that providing contraceptives will not solve the problems of Sexually Transmitted Diseases, teenage pregnancy and abortion. Contraceptives on the contrary will increase the problems associated with sex," said Langa, advising that government adopts a risk avoidance rather than a risk reduction strategy for the problems.
He tasked Parliament to revise laws and policies and to have them comply with the Constitution, cultures, morals and aspirations of Ugandans. He also recommended that a Select Committee be set up to investigate the damage done to children and recommend a way forward to Parliament.
The Speaker of Parliament, Rt. Hon. Rebecca Kadaga, appealed to parents to dedicate time to relate, interact and guide their children despite the pressure to earn an income. She also said that there was need to rethink Uganda's education system, and to encourage pupils and students to go for vocational training.
Kadaga said that following a debate on comprehensive sexual education, Parliament had resolved that all reading materials about the subject be collected and burnt at a public function.
"We are waiting for government to inform us about these materials. We must send a signal that those books should not be read," said Kadaga.
She promised that Parliament would address the issue of violence against girls in the country's education system, as requested by the United Nations.